Beware of the Hun in the sun!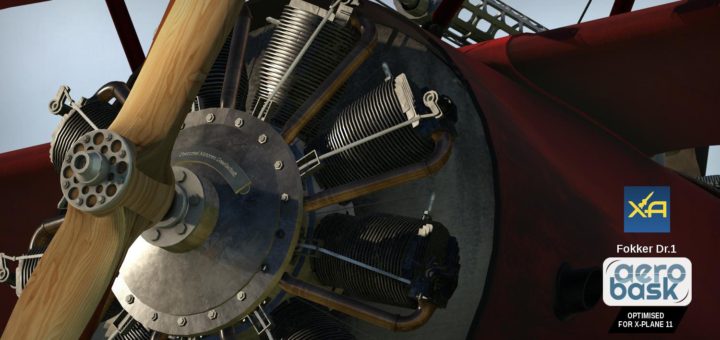 Een waarschuwing die jonge onervaren jachtvliegers vooral tijdens de eerste en tweede wereldoorlog kregen was "Beware of the Hun in the sun!". Oftewel Laat je niet verassen door de vijand (Netjes gezegd) die met de zon in zijn rug jou aanvalt terwijl jij verblind bent door diezelfde zon. Manfred von Richthofen (de beroemde Rode Baron) was hier erg goed in. Hij vloog o.a. met de Fokker Dr.1. Nu kunt uzelf deze kleine driedekker ook vliegen binnen X-Plane V11+. Normaal is deze payware, maar nu is ze hier gratis verkrijgbaar dankzij ontwikkelaar Aerobask.
The Red Baron's Airplane !
The Fokker Dr.I Dreidecker (triplane) was a World War I fighter aircraft built by Fokker-Flugzeugwerke. The Dr.I saw widespread service in the spring of 1918.
It became renowned as the aircraft in which Manfred von Richthofen (Red Baron) gained his last 19 victories.
Our Aerobask model was originally designed for X-Plane 10, and improved for X-Plane 11.
We are proud to release our Dr1 as freeware.
Main features:
High quality modeled with HD textures. Fully animated virtual 3D cockpit
Many modeled instruments, such the cup anemometer, altimeter, fuel gauge and fuel regulator, Fuel tap, oil pulsator, etc…
Functional Spandau machine gun
Custom sounds with some 3D effect : engine and start, airflow, rolling ground and touch, machine gun, etc…
3D surround effect : engine, start and airflow
3 Pop-Up menu: options, start & movable pop-up compass
Optional custom lights for multiplayer mode (dogfight)
VR ready
Flight manual by Mario Donick
Refined Flight Model
Flight model by  X-Aerodynamics (Cameron Garner)
Optimized for X-Plane 11
Simulated gyroscopic effect
Thanks to our testers team !
Thanks to Stevil for his help for VR flight.
Enjoy !