FSDG St. Vincent uitgebracht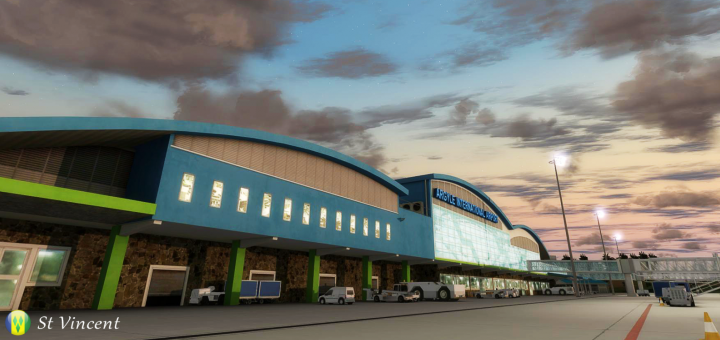 Flightsim Development Group, kortweg FSDG heeft vandaag St. Vincent uitgebracht voor FSX, FSX:SE en Prepar3D. St. Vincent is een vulkanisch eiland in de Caraïben en onderdeel van St. Vincent en de Grenadines. Het ligt tussen St. Lucia en de Grenadines. Het heeft twee vliegvelden. Het oude vliegveld E.T. Joshua Airport (TVSV) is niet meer in gebruik. Hiervoor is in 2017 Argyle International Airport (TVSA) in de plaats gekomen.
Deze scenery maakt onderdeel uit van een groter project genaamd 'Pilots of the Caribbean'. Zoals de naam al doet vermoeden is dat meer dan een scenery. De scenery omvat de eilanden St. Vincent en St. Lucia en het fictieve 'Pirate's Cove'. Ook zijn er een viertal missies en AI om de omgeving levendig te maken.  De volledige featurelijst is hieronder te bekijken.
Op dit moment is St. Vincent los te bestellen voor €16, maar ook de bundel kan worden gereserveerd voor €33,60.
Features St Vincent:
Complete coverage of St Vincent
Aerial imagery with night lights
High resolution mesh (LOD13)
Accurate and detailed rendition of Argyle International Airport (TVSA)
Realistic rendition of decommissioned E. T. Joshua Airport (TVSV)
Additional airstrips included
Ultra realistic shadow and light rendition with volumetric lights
Jetways compatible with SODE
Performance-friendly 3D lights technology
Optimized for great performance and visual quality
Compatible with all known addons including ftx products, UTX and FSGlobal
Manual included
Features St Lucia:
Complete coverage of St Lucia
Aerial imagery with night lights
Accurate and detailed rendition of George F. L. Charles Airport (TLPC)
Accurate and detailed rendition of Hewanorra International Airport (TLPL)
Additional airstrip included
Ultra realistic shadow and light rendition with volumetric lights
Performance-friendly 3D lights technology
Optimized for great performance and visual quality
Compatible with all known addons including ftx products, UTX and FSGlobal
Manual included
Features PotC – The Adventures:
4 thrilling adventure missions covering Pirate's Cove, St Vincent and St Lucia
Professional dialogs and music recordings
Fictional scenery of Pirate's Cove (south of St Vincent)
New amphibian R22 helicopter model
AI traffic for St Vincent, St Lucia and the Caribbean Sea
Realistic AI schedules for SVG Air, Air Caraibes, Caribbean Airlines, LIAT and more
Optimized for great performance and visual quality
Compatible with FSX and P3Dv4
Manual included