GOLDEN KEY STUDIO – MIG-21BIS "FISHBED" verkrijgbaar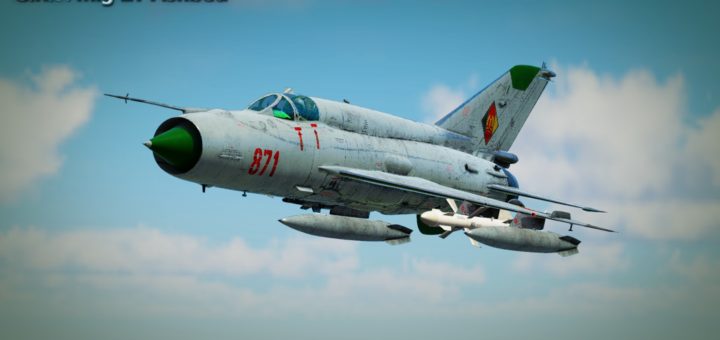 We hoeven je vast niks uit te leggen over de Mig-21 (BIS) "Fishbed". Deze modernste versie van de MIG-21 heeft een upgrade gehad vergelijkbaar met het MLU (Mid Live Update) programma van de KLU F-16A's voor een langere levensduur en modernisering. Nu is deze kist te koop voor P3D v4 en v5. Ze komt in twee versies, de "Standard Edition'' voor 41.15 EUR en de "Extended Edition" voor 52.04 EUR. Let op, dit betreffen aanbiedingen die geldig zijn tot 07-01-2021. Wat ons betreft blijft dit gewoon een van de mooiste jacht-bommenwerpers ooit gebouwd.
The MiG-21 Bis (NATO reporting name: "Fishbed") is a supersonic front-line jet fighter and interceptor aircraft, designed by the Mikoyan-Gurevich Design Bureau in the Soviet Union. Due to its simplicity of design, ease of mastering the piloting technique and excellent indicators of speed and maneuverability, the Mig-21 is widely used in the world.
The MiG-21  «Fishbed» is:
High Speed, Up to 2.1 MACH
High Altitude Up to FL650 (20 Km)
AWOPS, Old School Navigation (VOR2VOR, NDB, RSBN, ILS)
Challenged landing at 172 IAS (320 Km/h) with CAT 3A
Powerful Weapons System, more than 8 different types of ammunition. (Extended Edition Only)
*** suitable for former Cold War pilots!
Here's what you pay for:
Collectible model of the LEGENDARY MiG-21Bis created with an unprecedented level of detail and realism.
High quality external and internal models using PBR technology (Physically-Based Rendering)
Realistic flight model based on the MiG-21Bis military training simulator.
By-the-book performance
High quality sound set recorded from original MiG-21Bis
Accurate Pylons, Racks & Stores Weight and Drag
Realistic Engine Characteristics
Authentic Autopilot System
Detailed Hydraulic & Pneumatic Systems
Realistic Fuel Management
Detailed Landing Gear Structural Model
Accurate DRAG CHUTE Dynamics
Aircraft STATES management system
Highly detailed product manuals included