GRATIS F/A-18 voor MSFS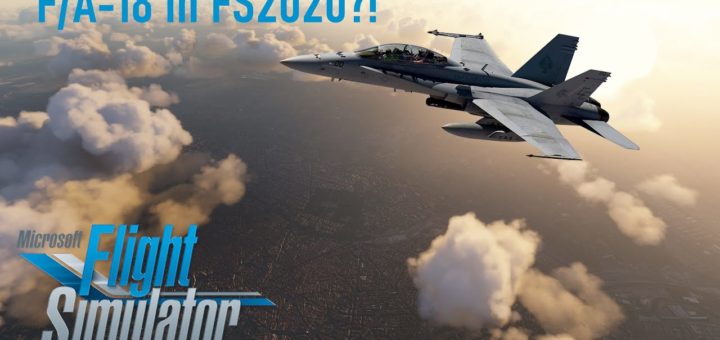 Even was het nog de vraag "komt ze er, of niet?" Ze is nog lang niet niet perfect, maar de eerste straaljager (test model) is uitgekomen voor MSFS. Hier kun je deze F/A-18 downloaden. Nice! UPDATE: We hebben haar zojuist getest, mooi om te zien dat er geen blurry textures ontstaan op hoge snelheid. Alles blijft scherp. Wel raden we jullie aan om in de lucht te starten aangezien deze versie door de bodem zakt. Hier wordt aan gewerkt, daarnaast werken ze ook aan de HUD en schermen. Het betreft een FSX model dus het vergt nog wat meer tijd.
Yes, you read that right. We have our first fighter jet for Microsoft Flight Simulator 2020, the F/A-18 for you and damn it's nice. Soar through the skies with what feels like an unlimited amount of thrust in your throttle. This is truly a monumental moment for Microsoft Flight Simulator 2020 as the FA-18 has been longed for by the community even prior to the release of Microsoft Flight Simulator 2020. The creator has understandably chosen to stay anonymous but has nevertheless given us the go ahead to share their wonderful achievement with you all. But there are some issues we need to make clear:
If you want a perfect F/A-18, we don't have one for you yet.
This is not a perfect study level F/A-18

The HUD and the MFDs do not work, but the gauges do.

The engines can't be manually started so you have to spawn either in the air or on the runway

The gear is up by default no matter where you spawn so you'll have to slew out of the ground first if you choose the latter

The afterburner don't work so it's permanently baked into the engines, increasing thrust produced by each of the two to 17750 lbf compared to the dry thrust of 11000 lbf.

It's wobbly at very high speeds of around 800 knots (it might be more stable with the legacy flight model however).

The plane works better under the Legacy Flight Model rather than the modern setting
We hope some of these limitations with this F/A-18 will be inspiration for all the plane creators out there to improve upon its design, and use it as a jumping off point to create even more great planes for the community.