IXEG 737 Classic versie 1.31 uitgekomen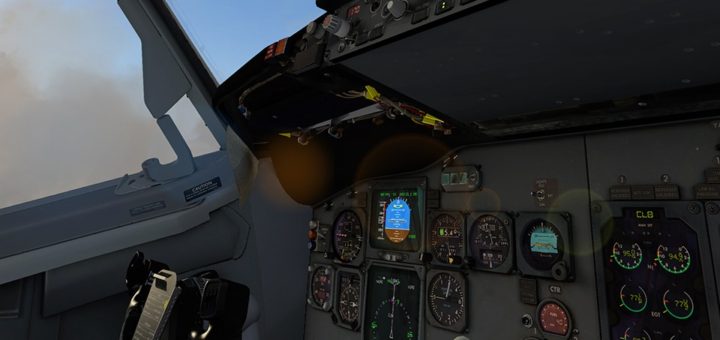 Nog maar kort geleden kwam versie 1.30 uit, en nu is er al een aardige update uitgekomen wat de IGEX 737 Classic brengt op versie 1.31. Een flinke waslijst aan verbeteringen en toevoegingen, goed bezig IXEG! Je koopt deze prachtige addon hier op X-Aviation voor 74.95 USD, al in je bezit? dan download je deze nieuwste versie via je eigen account op de site.
Bug fixes: 
• Fixed mouse wheel scroll direction for all manipulators • Various Gizmo Beta Changes/Fixes 
• Fixed the first digit of engine #2 manual N1 setting indicator to bleed over to engine #1 
• Removed "C x 100" labelling from Fuel Flow gauges 
• Fixed two screws missing (CPTs EHSI frame and overhead panel) 
• Stopped stick shaker assembly from clipping into footrest cover 
• Re-enabled BetterPushback to work with this plane 
• Enabled auto thrust to set correct N1 at high-altitude airports for takeoff 
• Fixed texture see-through bug with leather flaps on side of instrument panels 
• Re-enabled lit texture for writing on the mode control panel 
• Hooked up right-side N2 and FF carrots of electronic instrument version to correct engine again 
• Fixed movement direction for rudder pedals 
• DC meter selector on BAT will now show battery voltage even if BAT switch is off 
Improvements: 
• Tweaked "fur" texture of pilots seats to avoid the "see-through" effect near edges 
• Removed further "texture bleed" cases of bad UV mapping (APU fire control box in the wheel well) 
• Changed and improvement manipulators for the flap and speed brake handles (more intuitive to use, hits detents better)
• Tweaked APU fuel use logic (draws from left side fuel manifold when running, according to fuel system setup and pressures) 
• Increased EDG oil temperatures a bit to avoid needle being pegged at the left edge of the gauge 
• Several improvements to initialization setting of switches and rheostats (lights, TCAS/Transponder, DH, Radar system, etc…) 
• Changed click spots for sun visors in eyebrow windows to the actual lanyards 
• Allow use of "ground services" menu while in motion or even in-flight for fuel, weight and CG adjustment 
• Various minor texturing/UV tweaks 
• Total makeover of many manipulators in the cockpit for optimal mouse and VR use. 
Additions: 
• Added option to remove "ghost throttle" symbology 
• Added option to have a mouse manipulator to move both thrust levers simultaneously (for VR or mouse fliers). 
• Added option to use two separate hardware axis for throttles (no locking lever at idle). 
• Added VRconfig.txt for optimal VR compatibility 
• User-created PBD (Place / Bearing / Distance) waypoints implemented on LEGS and RTE page