JustSim Gazipasa-Alanya airport uitgebracht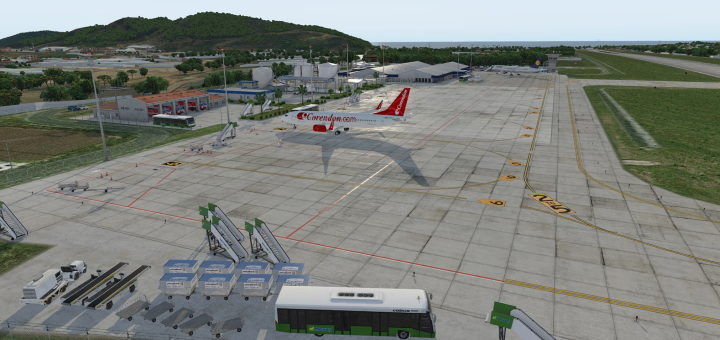 Na onze eerdere aankondiging dat JustSim aan het werk is aan Gazipasa-Alanya airport is deze vandaag al verschenen voor zowel Prepar3Dv4 als X-Plane 11. Dit vliegveld ligt in de provincie Antalya en is sinds 2010 in gebruik. Het vliegveld ligt op zo'n 30 minuten rijden van Alanya, in tegenstelling tot een ritje van 120 minuten vanuit Antalya. Het vliegveld beschikt over een enkele startbaan en wordt voornamelijk aangedaan door charters.
De scenery is te verkrijgen via simMarket en kost zo'n €16. Meer informatie is te vinden op de productpagina Prepar3D of X-Plane. Bekijk alle features hieronder.
Features Prepar3Dv4:
• Fully compatible with FTX Global Base and FTX Global Vector by ORBX
• Fully compatible with FTX openLC Europe
• Fully compatible with PILOT'S FSG – FS GLOBAL 2018 FTX and default mesh
• Shading and occlusion (texture baking) effects on terminal and other airport buildings
• Ground polygons made with the requirements of the SDK Prepad3D-PBR materials used.
• Custom GSX Ground Service settings for scenery (parking's specifications, vehicles, pushback and boarding services) – see a manual for scenery after installation!
• Dynamic lighting of the apron
• 3D models now use PBR materials (SDK 4.4)
• High resolution ground textures / Custom runway textures
• High resolution building textures
• Many animated custom ground vehicles.
• Surrounding area with custom autogen
• Fully AI traffic compatible with accurat AFCAD file
• Excellent night effects
• 3D birds
• 3D grass
• Optimized for excellent performance
• Fully 3d taxiways lighting
• Automatic season change for vegatation, high resolution phototerrain
• Realistic reflections on glass
• Inclusion of manual in PDF format
Features X-Plane 11:
Detailed airport objects and vehicles
Custom textured taxiways, runways and apron
Custom surroundings
Custom airport lights
Handplaced autogen, greenhouses and trees
Compatible with X-Plane 11 features
Shading and occlusion (texture baking) effects on terminal and other airport buildings
High resolution ground textures / Custom runway textures
High resolution building textures
Excellent night effects
Realistic reflections on glass
World Traffic compatible
X-Life traffic compatible
Optimized for excellent performance
Custom patch for Ortho4XP for real runway curvature