JustSim Rhodos-Diagoras v2 uitgebracht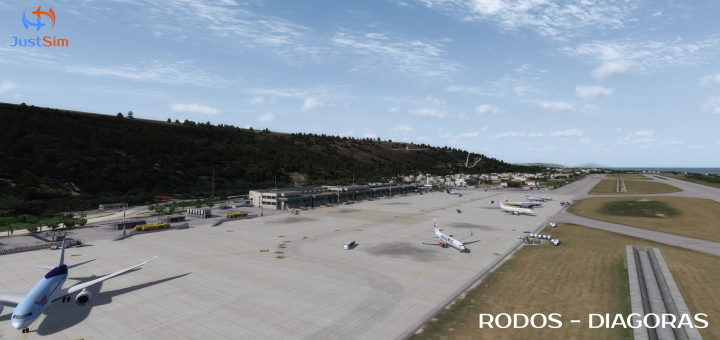 Ontwikkelaar JustSim heet Rhodos-Diagoras International Airport v2 uitgebracht voor Prepar3Dv4. Het vliegveld ligt zo'n 14km. van Rhodos stad en is een populaire vakantiebestemming. In 2017 maakten zo'n ruim 5 miljoen passagiers gebruik van het vliegveld.
Versie 2 bevat een groot aantal verbeteringen die het vliegveld weer helemaal up-to-date maken. Ook is er dynamische verlichting en PBR ondersteuning toegevoegd. Het vliegveld is verkrijgbaar via simMarket voor zo'n €21. Bestaande gebruikers kunnen voor zo'n €6 upgraden.
Changelog:
Runway and taxiways were expanded/changed.
Texture ground polygons was changed.
Ground polygons were compiled using SDK 4.4-PBR materials used.
More than 20 Parking lots were added/changed.
The marking of the Parking lots has been changed.
AFCAD file has been modified.
A custom profile file for GSX has been modified.
Lighting on the runway taxiways has been changed.
Dynamic lighting has been added/changed.
3D models now use PBR materials (SDK 4.4)
Additional optimization performed
Small fix.
Features:
Fully compatible with FTX Global openLC Europe
Shading and occlusion (texture baking) effects on terminal and other airport buildings
Ground polygons made with the requirements of the SDK Prepar3D
Dynamic lighting of the apron – only Prepar3D V4
High resolution ground textures / Custom runway textures
High resolution building textures
Many animated custom ground vehicles.
Surrounding area with custom autogen
Fully AI traffic compatible with accurat AFCAD file
Excellent night effects
3D birds
3D grass
Optimized for excellent performance
Fully 3d taxiways lighting
Automatic season change for vegatation, photobackground high resolution
Realistic reflections on glass
Inclusion of manual in PDF format