MP Design Studio Bell 206 voor Prepar3D uitgekomen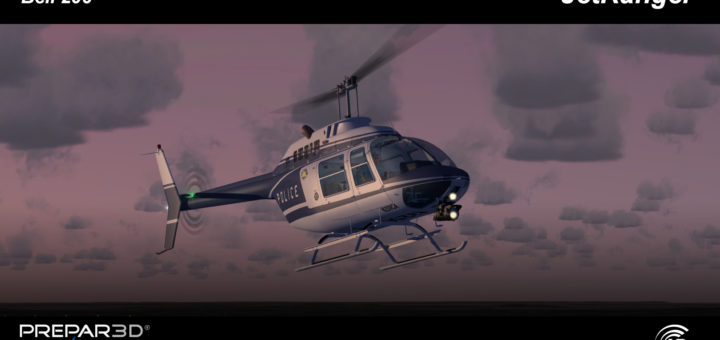 De Bell 206 "Jetranger" is waarschijnlijk de meest gevlogen FSX heli. Helaas zit deze niet bij Prepar3D inbegrepen en konden vliegers van deze sim dit kistje niet vliegen. Maar gelukkig kan dit nu weer want de nieuwe MP Design Studio Bell 206 voor Prepar3D v4 en v5 is uitgekomen. Hier te koop voor 27.83 Euro.
The Bell 206 is a family of two-bladed, single- and twin-engined helicopters, manufactured by Bell Helicopter at its Mirabel, Quebec, plant. Originally developed as the Bell YOH-4 for the United States Army's Light Observation Helicopter program, it was not selected by the Army. Bell redesigned the airframe and successfully marketed the aircraft commercially as the five-place Bell 206A JetRanger. The new design was eventually selected by the Army as the OH-58 Kiowa. Bell also developed a seven-place LongRanger, which was later offered with a twin-engined option as the TwinRanger, while Tridair Helicopters offers a similar conversion of the LongRanger called the Gemini ST. The ICAO-assigned model designation "B06" is used on flight plans for the JetRanger and LongRanger, and the designation "B06T" is used for the twin-engined TwinRangers.
Include:
– High skid model (12 liveries)
– Low skid model (4 liveries)
– 16 liveries in total
– Quick manual (documents inside main folder of add-on)
– Original flight manual (documents inside main folder of add-on)
FEATURES:
Procedures:
– Realistic startup/shutdown procedure using real world checklists
– Flight manual included in documents folder
– CPanel and checklists (Shift+1)
– Hydraulic test/fail behave Animation:
– Fully clickable cockpit
– Rotor swing on windy conditions
– Vibrating cockpit parts with influence of main rotor RPM and ground contact
– Vibrating needles due to pitot-static ports airflow disturbs
– All door opening/closing animated and accessible via CPanel
– Windows opening/closing animatedAerodynamic:
– Torque induced yaw
– Effective translational lift
– Transverse flow effect
– Loss of tail rotor effectiveness (at high airspeed only-incapacity of yaw)
– Vortex ring state
– Rotor overpitch
– Autorotation flight with engine off or engine on idle (vertical autorotation not possible)
– Main rotor RPM change according helicopter attitude change
– Torque variation with rough collective lever inputs
– Turbine temperature variation with rough collective liver inputsSound:
– Realistic startup/shutdown sound
– Realistic indoor/outdoor sound
– Transmission sound during autorotation flight (engine off)
– ENGINE OUT warning sound
– LOW ROTOR RPM warning sound
– Door open/close sound, skid contact sound, fuselage contact sound, gyro sound, wind sound….Paint Kit:
Available in DOWNLOAD section of MPDesignStudio website