PMDG 737NGXu Base Package voor Prepar3Dv4 uitgebracht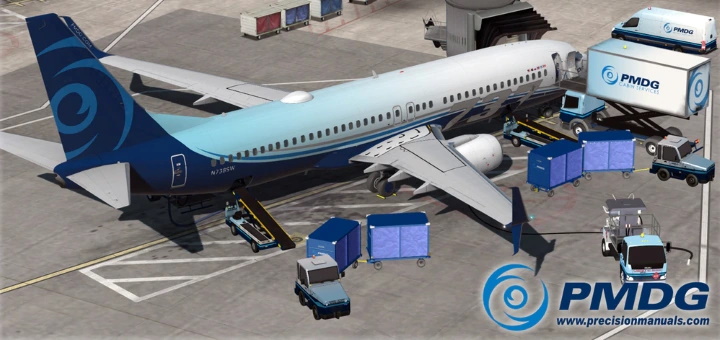 Compleet onverwacht heeft PMDG zojuist de base package 737NGXu uitgebracht voor Prepar3Dv4. Dit is een volledige nieuwe versie van PMDG 737NGX en dus niet de NG3 die in ontwikkeling is. De NG3 zal exclusief worden uitgebracht voor MSFS 2020. De 737NGXu biedt een aantal grote verbeteringen, waaronder split scimitar winglets. Bekijk de volledige features hieronder. Het base package is aan te schaffen voor $99 en dit bedrag krijg je tevens als korting als je later de NG3 koopt voor MSFS 2020.
Tevens stopt PMDG met de ontwikkeling voor de 32 bits platforms (FS9, FSX) en X-Plane.
Features:
All new system simulation, utilizing the latest PMDG system simulation engine.
Enhanced flight physics.
Addition of rigid body physics to wing and tail surfaces.
Improved flight control systems.
Electronic Flight Bag with Navigraph Integration.
High resolution cockpit displays
New equipment options for cockpit instrumentation, fuel system changes and more.
Changes to 737 options packages reflecting real world changes since NGX was first offered in 2011.
Expanded failures simulation to cover nearly all QRH scenarios.
PMDG Global Flight Operations compatibility (when PMDG GFO is made live in late 2019!)
Native PMDG datalink simulation for offline flying (similar to 777 and 747)
PMDG's enhanced light package for the virtual cockpit.
Driveable pushback tug.
Base Package includes 737-800, 737-900 and 737-900ER models with standard wing, blended winglet and split scimitar winglet options where offered on the actual airframe.
All new external models, with PBR texturing, enhanced animations and more.
All new virtual cockpit model, with high detail PBR texturing, advanced animations and more.
All new, high definition sound suite recorded on a fully instrumented test airplane.
Enhanced PMDG Sound Engine for immersive audio experience on the flight deck.
New PMDG Operations Center 2.0
…and much much more!
This is compatible only with Lockheed Martin's Prepar3D. v4.4+
This product requires hardware flight controls (cannot be flown using just a keypad/keyboard input)
This package is required to use any of the PMDG 737NGXu series products for Prepar3D v4.4+.
You must have installed Lockheed Martin's Prepar3D v4.4 or later to use this product.
This product requires a live connection to the internet for installation.
This product uses a full virtual cockpit and does not include 2D panels. (Some pop-up functions avail.)
This PMDG 737 license is for personal education only, not for professional or training use.
This PMDG 737 license is compatible with any Lockheed Martin Prepar3D v4 license level.