PMDG DC-6 FSX & P3D in Beta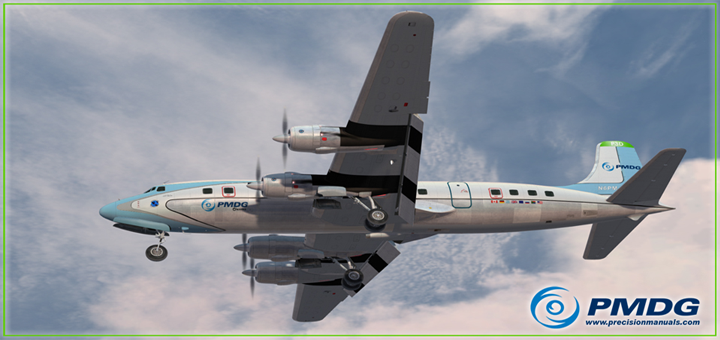 Via PMDG kregen we te horen dat de DC-6 Cloudmaster in de Beta fase is aangekomen. Fantastisch nieuws natuurlijk gezien het toestel alweer geruime tijd geleden exclusief uitgebracht was voor X-Plane 10. Binnenkort gaat hier dus verandering in komen en kunnen we ook in FSX en Prepar3D genieten van deze klassieker! Het volledige persbericht lees je direct hieronder:
 Captains,

We have a ton of stuff going on behind the scenes at PMDG of late…  Simultaneous work on three different four engine airplanes.

Can you imagine?

Concurrent with our other announcement regarding the 747, tonight we wanted to let you know that we have moved the PMDG DC-6 Cloudmaster for FSX, FSX-Steam Edition and Prepar3D into beta testing!

We still have some work to accomplish here but most of it is down to fine tuning the product and bringing in additional functionality that we are really excited to tell you about.

In the mean time, I have a few images of the old girl in Prepar3D- which I think you will find is a breathtakingly great platform for such a product.  The moodiness of the lighting, the clarity, reflective textures, bump mapping and animation capabilities really bring out the nuance and detail of this absolutely fantastic simulation!

We are in the process of moving a number of features from the 747-400 into the DC-6, such as sound processing and mouse handling- and we think these will really make this four engined beast feel like a good, well worn second home for PMDG pilots!

While I'm showing you some exterior shots, this one in particular is my current favorite because of the shadow model.  I love being able to see the propeller shadows against the fuselage as she sits on the ramp, waiting for the sun to set so that she can ply her trade across the empty sky as she was designed to do.  More so than any jet, a resting propliner actually appears to be resting, would you not agree?

Down below here we have a Freight Dog's Delight…  Is it any wonder how much those engines must weigh when it is acceptable to have a freight door that far aft on the airframe?  Almost looks unnatural.

As many of you know, I'm a vintage airplane guy…  I have hundreds of hours flying old airplanes, and I regularly fly a DC-3 around the United States.  That means I get giddy when I see shots like the one below, because the level of detail is simply extraordinary.  Screws, plates, safety wires, lenses, color filters and the like- all of it comes to life in magnificent, animated glory.

One of my favorite aspects of this airplane is the subtle variances between engines and indications.  As in real life, no-two-engines are going to behave exactly the same- and the differences must be accounted for and digested without the incredible digital precision allowed in modern era jets.

That isn't to say you can be ham fisted and accepting of inaccuracy- because this is a very complex airliner that you are flying.  Precision becomes the masthead upon which you hang your professionalism- and if you fail to mind the store- the airplane will punish you.  She doesn't tolerate being mistreated.

But we know some of you will… intentionally, or through inattention to some needle located just outside of your field of view…  So we are teaching the Virtual Flight Engineer how to work in the world of Prepar3D and eventually FSX as well.

When things still go wrong- you will have the ability to get under the hood and run some maintenance and repairs…  After all- none of us want you getting stranded in Nome without a way home!

Stay tuned for more information and images as beta testing progresses.  These are exciting times here at PMDG…  THREE different four engine airplanes in the works all at once.

Pure craziness, I tell you!