QualityWings Status Update (Q4 2017)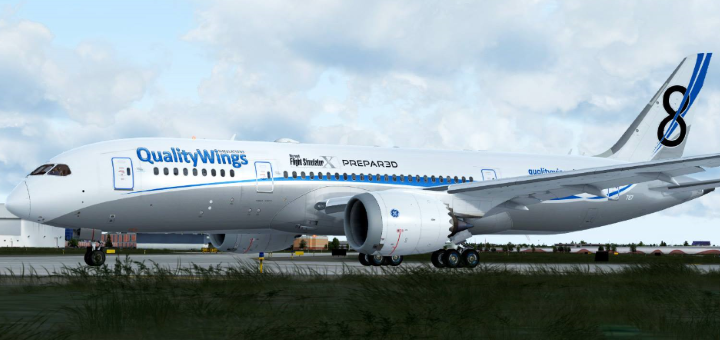 QualityWings heeft op Facebook een statusupdate gegeven van alle ontwikkelingen. In het kort komt het hier op neer:
Er wordt hard gewerkt aan SP1 voor de 787 en een 64 bits versie voor Prepar3D v4.1. Een release datum is niet bekend
Daarnaast wordt ook de 757 opgepoetst voor Prepar3D, deze versie gaat $15 kosten, een eerste versie wordt momenteel getest
Ook de BAe/Avro krijgt een update naar Prepar3D, een eerste beta wordt in januari verwacht
Hieronder de volledige post:
Happy Holidays from QualityWings Simulations! We hope you have all had a wonderful time with your families.

With the conclusion of 2017 right around the corner, it's time to provide a more complete status report than we have been able to provide over the past few months.

While the release of the 787 was a major achievement for us and we are delighted with the feedback from it, we are still working on the remaining issues that we have with the product.

With the first two hotfixes behind us, we are in the process of developing the first Service Pack (SP1). SP1 will address approximately 50 more items.

Also in development for the 787 is the 64-bit version for Prepar3D Version 4.

The first test version has been sent out to our beta testers with the focus of identifying any P3Dv4 specific issues with the product. There are some issues such as night lighting and TCAS that have not been an issue in the FSX version and need attention.

Dynamic lighting is also something currently under development for the P3Dv4 version of the 787 as well as other additional P3Dv4 specific features which are not included in the FSX version.

Once we get closer to completion of SP1 and P3Dv4, we will provide a timeframe for a release as well as more info on new features.

After the bug fixing portion of post product release has been stabilized, we have a Product Improvement Package scheduled for sometime in the summer of 2018. This PIP will – amongst other improvements – include the 787-10 as a free update for current customers. These additional features will be outlined at a later date.

Hard to believe it, but the current version of the Ultimate 757 just turned 8 years old. The capabilities and interests of this group have evolved significantly over the last 10 years, but this product is still a source of pride for us. You never forget your first.

We are pleasantly surprised at the amount of inquiries that we continue to get about this version of the Ultimate 757. The product does however show its age in many ways, which is why we ended production on it a few years ago: it just didn't make sense to keep trying to extend features in that product. But with that said, there is some news with the Ultimate 757.

We will soon be moving the 757 product away from the Add-On Manager (that has been a central point of the installation process) to the Flight1 Wrapper. This will provide a more familiar and consistent installation experience for customers, as we already have our other products associated with the Flight1 wrapper. Instructions for existing customers on how to convert your valid purchase to the Flight1 system in order continue to use the product will follow. Of course there will be no charge for this conversion.

Ultimate 757 64-bit version for P3Dv4

We're internally testing a conversion of the current version of the 757 for P3Dv4. This conversion is not as easy as we originally anticipated though. We are facing some TCAS and lighting issues that will require major rework. If things go well we plan to ship out to the beta team in January.

The 757 will be made available for P3Dv4 as a separate product for $14.95. In other words, current customers who are using the 757 for FS9/FSX are not entitled to any discounts on this version.

The aircraft will not receive any additional updated features outside of some performance improvements and updated CDU fonts.

We promised to revisit the 146 after the 787 release and we can confirm that the 146 will be coming to P3Dv4 soon. Internal testing is currently underway on this one. Just like with the 757 we are facing some issues that need to be resolved but we plan to ship out to the beta team in January as well. There will be no new/additional features for this P3Dv4 version.

The P3Dv4 version of the Ultimate 146 will be sold separately. More on the pricing follows as we get closer.

That's all the news that we have for now. As always, when we have something to share: you will see it here first.

Happy New Year!