RealView v1.4 uitgekomen HighSkyTech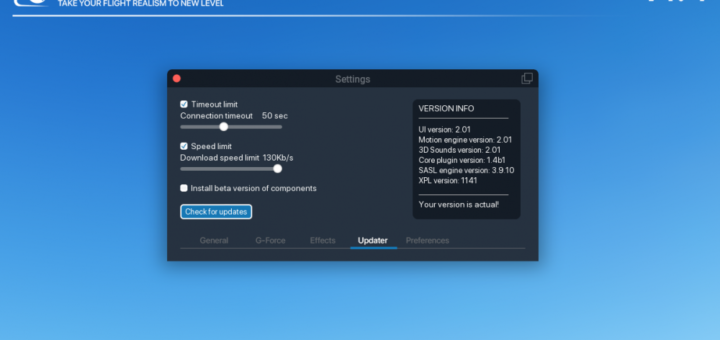 Goed nieuws als je RealView voor X-Plane v11+ bezit, nu is versie v1.4 uitgekomen. Ontwikkelaar HighSkyTech heeft o.a. deze gave camera addon geschikt gemaakt voor VR en de X-Plane v11.50+ Vulkan engine. Good job! (Let op! Deze update is niet beschikbaar via Simmarket, Ik heb de ontwikkelaar een mail gestuurd met de vraag hoe Simmarket klanten kunnen updaten, zodra ik antwoord heb laat ik het jullie hier weten). Hieronder de lange v1.4 update lijst en verdere info:
The plugin itself adds a new dimension of camera immersion, with soft and smooth camera movements in a "new generation of camera engine". In a way, it is somewhat similar to XPRealistic, though each has their own set of features of course.
The plugin can be purchased from x-plane.org for US $24.95, though is temporarily discounted to $18.95 as of time of writing.
The full changelog for version 1.4 is as follows:
Added new updater system
Added ability to download beta version of plugin via plugin
Added ability to reload components of plugin in real-time [TEST]
Added slider: Download timeout time
Added slider: Download speed limit
Added command for disable all camera motion
Added ability to show UI via command
Added brand new UI based on contextWindow rendering technology, without any flashes and e.t.camera
Added new UI pages:
    • General
    • G-Force
    • Effects
    • Preferences
    • Updater
Added brand-new product manual, brand images and e.t.c
Added enhanced turbulence immersion (shake when you fly trough airflow ane e.t.c) //Only for xA Pro cooperation
Added sound immersion in turbulence //Only for xA Pro cooperation
Added new logic of inter xp menus
Added "Centerize camera" feature.
Added new profiles control
Added new about page
Added vibrations for engine for all aircrafts
Added completely new fuselage, gear vibrations
Added new terrain reflect effect. Shake engine reacts now to different surfaces:
    • Grass strip
    • Concrete
    • Asphalt
    • Dirt
    • RWY shoulder
    • RWY blast pad
    • Object (for example, if you use custom object scenery, RealView
Engine will accurate simulate all object relief)
    • Lake
    • Snow
    • Gravel
    ..and many many more.
Added new overspeed, stall effects
Added new g-force vibrations effects
Added new engine RPM effect
Updated SASL v3 engine version up to: 3.10.2
Fixed CTD with command line
Fixed CTD when you open menu in VR
Fixed camera commands (Added all commands by user requests, thanks for report @ghun1)
Fixed internal SASL v3 API compatibility issues
Fixed compatibility issues between xA Pro & RealView
Fixed incorrect plugin shutdown state
Fixed possible CTD when you open UI on Mac
Fixed possible CTD when plugin detect xAmbience Pro
Fixed possible CTD when plugin detect FreeTrack
Fixed possible CTD with other environment addons
Fixed inoperative plugin state after aircraft reloading
Fixed inoperative internet connection after plugin reload
Fixed incorrect simvert data
Fixed incorrect data processing from xAmbience Pro
Fixed commands processing
Fixed compatibility with other addons
Fixed incorrect turbulence state with xAmbience Pro
Fixed internal code errors
Fixed other possible CTD's and other old issues
Corrected presets, and renamed to "Profiles"
Corrected aircraft decection logic
Corrected camera motion
Corrected landing effect (more accurate touchdown)
Corrected feature "Smart Zoom" (more accurate moving)
Corrected logic of presets saving
Main logic code was reviewed and corrected
Corrected and renamed many setting items
Removed "dark theme"
Removed old stylish interface
Removed subpanel mode of drawing
Removed old soung engine
Removed old touchdown effect
Removed camera freezing when you edit settings parameters
Removed camera freezing when you change view
Removed all old camera logic