Released: FSLabs A320-X voor Prepar3D v4.1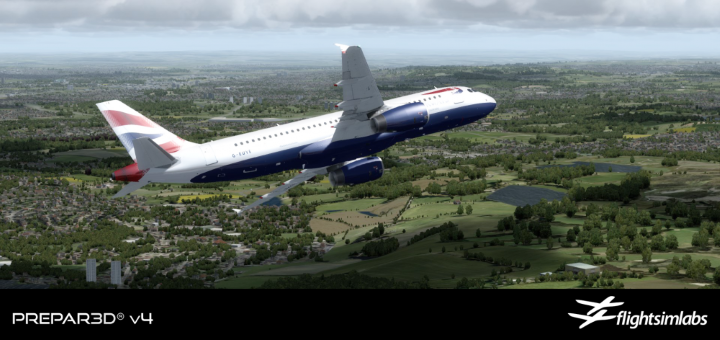 Flightsimlabs heeft de update voor de A320-X vrijgegeven waarmee het toestel nu ook in Prepar3D v4.1 beschikbaar is. Deze update is gratis voor bestaande gebruikers. Er wordt nu gebruik gemaakt van 64 bits code, waardoor een aantal beperkingen nu tot het verleden behoren (o.a. geheugenlimiet op 4 GB). Voor de 32bits sims (FSX, FSX:SE en Prepar3D v3) zal later nog een service pack verschijnen.
Release notes:

– New P3Dv4 Addon path Installation logic

Security protection mechanism overhaul
– Added Licensing Authority Administrative Security ™ mechanism
– No Enigma Internal Protection Error

External Model
– New v2.0 FSLSpotlights used
– Dynamic lighting techniques with variable brightness depending on day / light conditions
– Various new effects added for lights in low visibility fog conditions
– Haze effects added in cabin
– Various model parts updates
– Texture resolution / quality improved
– CFM engine significantly improved
– Rudder Weather vane logic improvements
– Livery installers updated to support P3Dv4

Virtual Cockpit
– New v2.0 FSLSpotlights used
– Several model part fixes / improvements
– New and improved high resolution textures
– Oxygen test logic added
– PEDAL DISC button clickable and fully animated
– Jumpseat camera viewpoint improved
– Floor / Console lighting added
– Aircraft shadow model added

Sounds
– 3D Engine overhaul
– IAE / CFM Engine entirely new 3D sounds
– PA recordings added
– ACP can now be heard through headset
– Over 200 distinct sounds added
– APU sounds improved
– Ext Pack sounds improved / added
– Aft outflow valve sounds improved / added
– Avionics sounds improved
– PTU sound improvements
– Cabin power xfer sound effect added
– CFM clanking sound added
– Doppler effect logic added

FMGC
– SEC FPLN added
– FIX INFO added
– S4/S7 AMI choice introduced
– FM
– Flightplanning analysis logic overhauled
– Discontinuity logic improvements
– AF logic improvements
– AWY work in LST
– Terminal/SEC/ALTN PLAN ND Display corrections
– CRZ ALT updated to PPOS ALT if DES is initiated while
PPOS ALT > CRZ ALT
– DIR TO list not selectable if in TMPY
– FPLN page negative distance logic improvements
– NEXT WPT operative
– NM/DIST FPLN page indication on SEC/TO WPT
now PPOS-based if applicable
– ND SEC MSAP path and SEC ALTN path now white
– Lateral path logic improvements for Nav Intcpt calcs
– AIP 3600 entry now considered as track 0
– BLOCK PRED improvements
– Climb predictions tuned
– TRANS ALT/LEVEL adjustments
– Tracking improvements:
– Velocity sampling for Rho estimation
– Radial out logic
– FA/CA/VA legs dynamic placement
– SPD CSTRs now working for dynamic legs
– CRS CAS predictions tuned
– APPR automatic engagement requires NAV in MANAGED    mode
– FG
– FPA calculation fixes with windy conditions (GS instead of TAS)
– AP disconnect with AProt active logic fix
– CMB logic update for CSTR
– Bank limit for takeoff phase tuned
– Mode fixes / impossible modes protection
– Windshear active fGlimit
– Min speed now based on FM speeds for DES/APP/GA and FAC for CLB/CRZ
– Bank limit in NAV/APP NAV/FINAL APP now for engine out only
– Various smaller fixes

ATSU
– Weather request logic improvements (ARPT stays in the list after request)

ACSC
– Fix for packs regulation and zone thermal balance
– Hot air valve fix
– TAC control logic
– TAVR logic fix
– Cabin temp logic improved

ECB
– Logic improvements for AUTO SHUTDOWN

FWC
– DB loading improvements
– Various logicsheet fixes
– Rx side logic fixes

SDAC
– DB loading improvements

FAC
– Rudder pedal tuning for improved ground handling
– Reactive windshear logic added

ELAC
– Fix for bank > 33 and overspeed roll
– Flare law elevator transition fixes

MCDU
– AIRCRAFT STATE infrastructure added
(can be configured and saved per livery / airline)
– Four distinct AIRCRAFT STATES supported:
– COLD & DARK
– ON GPU
– ON APU
– ENGINES RUNNING
– Set default panel state logic added
– MCDU / SUBSYSTEM intercom rate adjusted (faster MCDU I/O)

PFD
– FPV fix for FCU 1+2 FAULT

E/WD
– CFM N1 indications now EIS2 compliant
– CFM MREV annunciation fixed

ADIRUs
– ADR warn light logic improvements

Brake logic improvements
– Surface Condition affects keyboard max deflection
– Brake disc logic upodates / fixes
– A/SKID OFF ECAM message fix

Failures
– STUCK OUTFLOW VALVE added

Keyboard selection
– Crash bug with entering new keys fixed

Tiller
– STEERING_SET event now subscribable for default P3Dv4 control axis
– FSUIPC axis use now optional

Visual Effects
– Dynamic Light intensity now dynamically configurable
– Cabin mist effects added

And a multitude of smaller bug fixes and improvements that didn't make the individual list.