RWY26 Simulations Sir Donald Sangster International Airport uitgebracht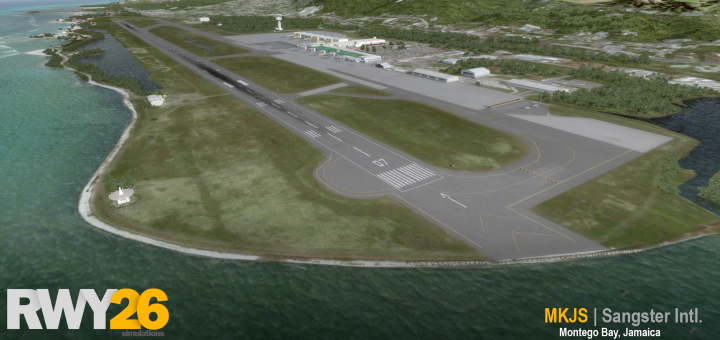 Gerome Bodden, ontwikkelaar van RWY26 Simulations heeft Sir Donald Sangster International Airport (MKJS) uitgebracht. Dit is het internationale vliegveld van Montego Bay in Jamaica. Het is de drukste luchthaven van Jamaica en één van de drukste in het Caraibisch gebied. Veel toeristen die Jamaica bezoek vliegen op Montego Bay. De scenery is alleen ontwikkeld voor Prepar3D v4 en is via simMarket verkrijgbaar voor ca. €18.
Features:
High detailed representation of Donald Sangster International Airport
High resolution textures (2048/4096)
Static AI
Static Jetways
3d volumetric grass
Animations including road traffic and birds in the vicinity of the airport
Dynamic Lighting (P3dv4 Only)
Optimized for good FPS performance and low VAS usage
Op dit moment zijn de jetways nog statisch, maar Jerome heeft op de Facebook pagina een oproep gedaan voor een SODE ontwikkelaar. Dus wellicht dat hier in de toekomst nog verandering in gaat komen.