ToLiss 319 v1.2.1 uitgebracht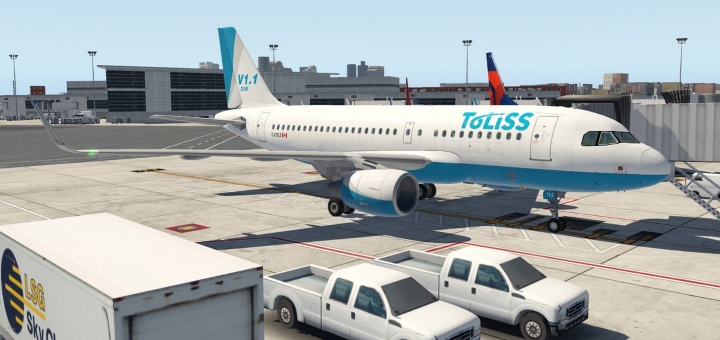 ToLiss heeft vandaag v1.2.1 uitgebracht van de A319 voor X-Plane. Deze versie kwam vrijwel direct na v1.2, die toch nog wat showstoppers bevatte. Het changelog is hieronder te bekijken:
Changelog:
Changes from build 971 (V1.2) to 973 (V1.2.1):
Bug fixes:
Fixed the "Crash during loading of city pair" crash
Removed the spurious "Gravity feed only" Status message during startup from cold + dark
Improved sequencing for SD pages when more than ECAM message is shown at a time
Improved representation of Terrain on ND for the popup windows.
Changes from build 939 (V1.1.1) to build 971 (V1.2)
Major new features:
XP11 style windows for the popup displays – you can move your MCDU or your popup to another screen now
ECAM rework: Automatic call of system and status pages, and EWD overflow logic
Implementation of the majority of ECAM status messages
You can switch PFD, ND and ECAM around like in the real aircraft (3D cockpit ONLY)
Added display units as failure modes to the Fault injection screen
Custom ground effect model to make landing flare more realistic (You will have to retune your flare technique!)
Minor new features:
Added option to synchronize baro settings between Captain, Copilot and ISI
APU now runs for another 120s after switches it off to cool down as in real life (Generator and bleed not available during this time)
Warnings for DOORS open is triggered now if you forget to close them before takeoff
New battery model allowing proper charge/discharge procedure and allowing APU start in air off batteries
The different engine types now also have the appropriate individual oil pressure, EGT and fuel injection time during startup (Besides N1, N2, Fuel consumption and thrust which were already different in previous versions)
Addition of non-linear stick-to-command mapping for the FBW control laws to approach the reallife implementation even closer
Ice detection system to warn you of the impeding performance degradation if you don't switch on Anti Ice
Some visual tweaks from Matthew on wings, engine blades, windows and strobe lights plus addition of a SatCom Antenna (Thanks!)
Bug fixes:
Fixed the QNH reset to zero when popping up the ISI
Fixed the spurious MCDU resets during power transients
Fixed issue that rotating the BARO knob in mode STD had an effect on altimeter
Added Probe and window heating to the electrical bus loads
Fixed possibility to start APU of batteries when in mid-air
Fixed saving of the XPDR compatibility preference setting
CVR ground control switches off now, when starting the engines or being off ground
PACK 1(2) OFF ECAM messages now have a 60 second delay to allow the pilot to switch them off after thrust reduction
Retuning of the volume levels between TRU and air conditioning in the cockpit
Fixed the bug that SIDs are not available if the runway designator in the apt.dat file and the procedure file are off by 1
Fixed the import of altitude constraints that are stored in the CIFP file in the format FLxxx instead of altitude in feet
Improved pitch trim wheel mapping between animation and actual stab position