Update voor P3D Tweak Assistant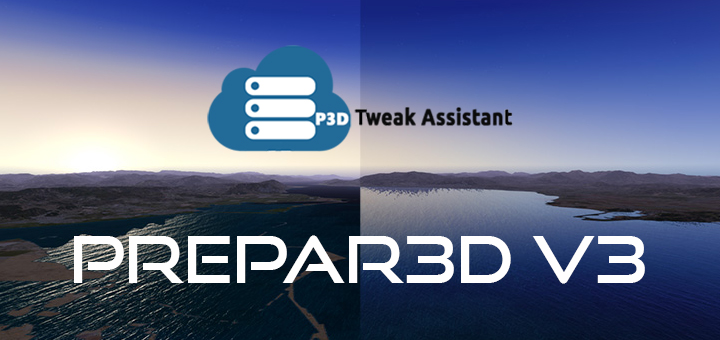 Er is vandaag een nieuwe versie uitgekomen van het programma P3D Tweak Assistant. Een programma dat we al eerder onder de aandacht brachten op FsVisions en inmiddels razendsnel aan populariteit wint. Deze gratis tool maakt het mogelijk om zeer veel aanpassingen door te voeren aan de visuele weergave in Prepar3D.  Op dit moment wat ons betreft hét pakket als het gaat om aanpassen van shaders, HDR, belichting, schaduwen, kleuren etc. etc.  De nieuwste versie (v1.3) is direct onder dit bericht te downloaden:
 Download PTA for Prepar3D v3.3
 Download PTA for Prepar3D v3.2
 Download PTA for Prepar3D v3.1
Release notes:
1. New tweaks for clouds shader: Clouds fog tuning: defines influence of visibility layers on clouds; Clouds shades adjustment: boost or reduce clouds color shades.
2. Tweak for clouds size now has separate management for vertical and horizontal sizes.
3. Group of shadows tweaks renamed to Lighting tweaks, some tweaks redesigned:
– General shadows intensity renamed to Adjust terrain ambient sunlight, max. value increased.
– Autogen shadows intensity renamed to Adjust autogen ambient sunlight, max. value increased. This tweak now not affects virtual cockpit.
– Boost light on the illuminated areas renamed to Adjust terrain diffuse sunlight.
– New tweak Aircraft brightnes tining: adjusts intensity of ambient sunlight received by aircraft (including virtual cockpit).
4. Max. value for effect power of alternate terrain haze tweak increased to 5.0.
5. New custom shader Tonemap adapted from Reshade (SweetFX).
6. Fixed bug in Curves custom shader (when HDR is on, all the lights and sun had black centers).
7. Command-line parameters interface added to PTA. If you using batch files for start simulator, or third party tools like SimStarter NG, you can run tool with full filename of preset as first parameter and preset will apply in "quiet" mode.
8. Some user interface improvements.