Aeroplane Heaven brengt Sabreliner uit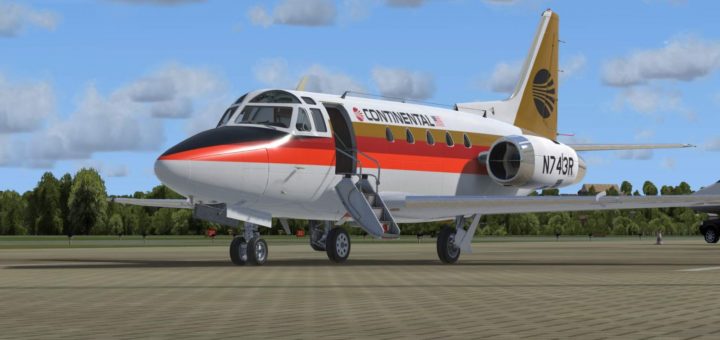 Addon ontwikkelaar Aeroplane Heaven heeft de Sabreliner voor Prepar3D v4 en v5 uitgebracht. Dit klassieke vliegtuig, dat voor het eerst het luchtruim koos in 1963 was een succesvolle vroege zakenjet, die vervolgens werd aangeboden aan de US Air Force als een Utility trainer onder de benaming T-39. Het toestel kreeg de naam "Sabreliner" naar zijn vleugelontwerp, dat gelijkenis vertoonde met de North American F-86 Sabre. Meer dan 800 Sabreliners werden geproduceerd tussen 1958 en 1982, waaronder 200 T-39's. Vanwege het oudere ontwerp en de lawaaierige motoren, is het vliegtuig nu grotendeels uitgefaseerd, er zijn nog slechts een handvol vliegende Sabreliners.
Deze addon bevat 3 zeer nauwkeurige modellen met verschillende animaties. In de cockpit vindt u authentieke textures, een professioneel gemasterd geluidspakket en een groot aantal animaties. Meerdere liveries zijn inbegrepen, gemaakt met PBR textures, zodat de vliegtuigen er zeer realistisch uitzien.
U kunt Aeroplane Heaven's Sabreliner voor Prepar3D v4/v5 nu kopen bij simMarket voor €37 (inclusief BTW) of via de Aeroplane Heaven winkel voor $36.95 (USD).
Amazing features
3 Highly accurate, fully detailed models with many working animations.
All details accurately rendered
Fully detailed complete exterior cockpit with external clickable features.
Full PBR (Physical Based Rendering) materials and textures throughout.
Realistic removeable animated pilots.
Realistic animated passenger door action with telescopic rails, working handles etc.
Accurately modelled "super-critical-wing" (65 series) with correct flap actions and wing-mounted speed brakes.
Interior models
Highly accurate, fully detailed and fully-functional cockpit.
True to real-world aircraft.
Flight dynamics authored on real-world flight model and tested by a real Sabreliner pilot.
Instruments are finished with 3D paint faces and are equipped with 3D-modeled needles and pivot pins.
Realistic engine starting.
Authentic, professionally mastered stereo sound pack.
A huge number of working animations.
Multiple liveries
A variety of (FULL PBR) liveries are included to cover all variants.
Textures are created using new-technology "PBR Workflow" techniques as used in many of today's successful computer games. This brings a new level of realism to your flight simulation experience!.