AJS-37 Viggen voor DCS World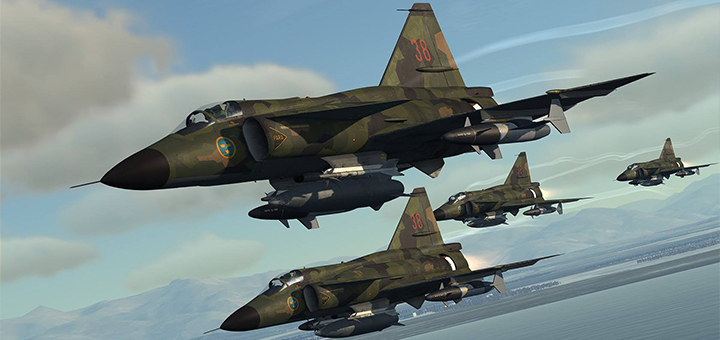 Vandaag een leuk nieuwtje voor alle liefhebbers van DCS, de AJS-37 Viggen komt binnenkort naar DCS World. Het toestel wordt ontwikkeld door Leatherneck Simulations in samenwerking met The Fighter Collection en Eagle Dynamics. De features van dit Zweedse toestel bekend van onder meer de Koude Oorlog zijn hieronder te vinden:
Features
Highly detailed and accurate 6-DOF (Degrees of Freedom) cockpit.
Extensive and highly detailed aircraft modelling systems such as:
CK37 aircraft computer with navigation data, time on target, and fuel calculation systems.
Data input / output interface and pre-planned data cartridge functionality.
Automatic dead reckoning navigation and terrain contour matching position update system.
Flight instrument systems.
Electrical and hydraulic systems.
Advanced RM-8A jet engine modelling with thrust reverser, compressor surges and stalls.
Sophisticated high-resolution air-to-ground radar technology modelling the PS-37/A radar including:Multiple radar amplifications and filter settings.
Obstacle detection mode.
Memory mode.
Air-to-Air mode.
Highly accurate advanced flight model based on real performance data and documentation.
Maritime reconnaissance capabilities to determine position, course and speed of vessels.
Advanced programmable weapons such as the RB-15F anti-ship missile with multiple waypoints and the configurable BK-90 "Mjolnir" Cluster munitions dispenser.
Detailed modelling of over 14 unique weapons and miscellaneous stores with multiple versions and delivery methods, ranging from rockets, bombs, to advanced air-to-ground missiles such as the command-guided RB-05A and the TV-guided RB-75 "Maverick" missiles.
Comprehensive 400+ page flight manual.
Extensive interactive & voiced training tutorials.
Several campaigns and missions including:Caucasus campaign
Mini NTTR DACT campaign
Mini Caucasus introduction campaign.
Instant action and single player missions.
Meer informatie vind je in dit forum topic.