Bush Kit voor default X-Plane Cessna 172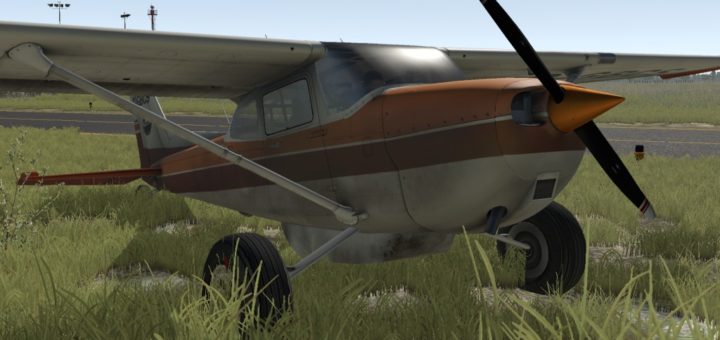 Enkele dagen geleden brachten de ontwikkelaars van PropStrike Studio hun Cessna 172 Bush Kit uit voor de bijbehorende standaard X-Plane 11 vliegtuigen. De kit is verkrijgbaar als freeware en maakt van de machine een echt bush vliegtuig met toendra banden en er is zelfs een staartwiel versie. Dankzij de nauwe samenwerking met SimCoders is deze uitbreiding ook compatibel met het Reality Expansion Pack (REP).
Op hun website licht PropStrike Studio de keuze voor de C172 toe:
Op basis van de verhalen van Ken Myles, een echte Quatam River Airport piloot, hebben we een gratis add-on voor de standaard Cessna 172 gemaakt. Deze uitbreiding plaatst je in een oud werkpaard, de C172, met twee retro liveries. De cockpit is oud en versleten, maar heeft een modern tintje gekregen met de retrofit Garmin Angle Of Attack indicator. Deze C172 is ook uitgerust met grote 29-inch Toendra banden die landingen op zachte velden mogelijk maken.
Je kunt de Cessna 172 Bush Kit hier downloaden.
Features:
In cockpit, Garmin Angle Of Attack indicator for improved Short landings and safe low-speed manoeuvring.
Custom Tundra tyres with better shock absorbing.
Tricycle and taildragger version.
Dynamic cargo system. The plane has removed backseat to allow for cargo storage in the cabin. As you increase the payload in X-Plane you will see cargo build up in the back.
Belly cargo pod automatically added when the payload is higher.
Custom textures for interior and exterior giving a workhorse like look. Nothing is clean or new, everything looks used and old.
Integration of Miniweeb's Slant Alpha cockpit layout meaning radio stack on the panel instead of GPS'. (With permission from Miniweebs)
Official Reality Expansion Pack(REP) support from SimCoders.