Carenado Citation II nu ook voor X-Plane 11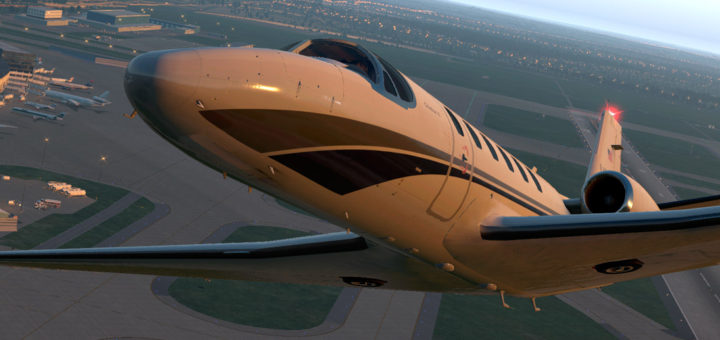 Carenado heeft haar prachtige S550 Citation II, die enkele jaren geleden al voor Prepar3D en FSX werd ontwikkeld nu ook beschikbaar gesteld aan X-Plane 11 gebruikers.
De S550 Citation II is een lichte zakenjet die werd geproduceerd tussen 1978 en 2006. Het vliegtuig heeft een bereik van 1998 zeemijlen (nautical miles), een kruissnelheid van 403 knopen en een plafond van 43000 voet. De S550 Citation II biedt plaats aan maximaal 10 personen. De eerste vlucht vond plaats op 31 januari 1977.
Carenado's versie van de S550 bevat verschillende functies die gebruik maken van de ultramoderne mogelijkheden van X-Plane 11, zoals volledige PBR (Physically Based Rendering), volledige VR-compatibiliteit en speciaal ontworpen motor-dynamiek. Een complete lijst met features vind je hieronder.

De S550 Citation II is beschikbaar in de webshop van Carenado voor $39,95 (ongeveer €35).
Features
Ground handling adapted for XP11 ground physics.
Physically Based Rendering materials and textures throughout.
PBR materials authored with industry-standard software used by the film and gaming industries.
Support for RealityXP's GTN750* (integrated into 3D cockpit, when available).
State-of-the-art configurable FPS-friendly logic system.
Realistic behavior compared to the real airplane.
Realistic weight and balance. Tested by several pilots for maximum accuracy.
Specially designed engine dynamics for XP11.
Flight physics optimized for XP11 standards.
*RealityXP GTN 750 is sold separately
Included in the package
6 HD liveries.
1 HD blank texture.
S550 Normal and Emergency Procedures PDF.
S550 Performance tables PDF.
S550 Reference table PDF.
Electronic Flight Information System PDF.
Multi Function Display PDF.
Recommended Settings XPLANE 11 PDF.