DCS World 2021 Roadmap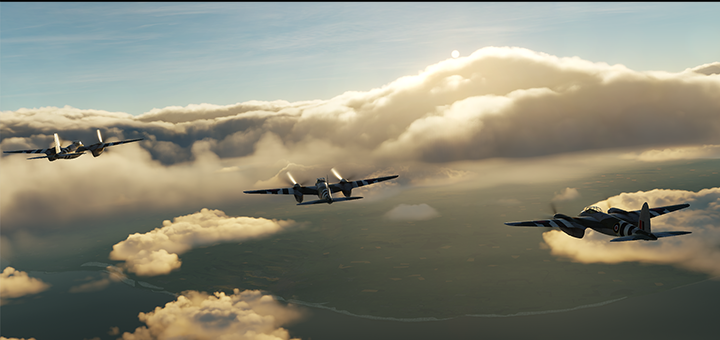 Prachtig nieuws van het DCS World team, de belangrijke punten zijn toch wel dat o.a. de AH-64D Apache en de Mi-24P Hind nog dit jaar uit zullen uitkomen. Maar als eerste zal de prachtige Mosquito FB MK.VI ruimte gaan innemen van onze virtuele hangar. Je leest alles hieronder:
Dear Fighter Pilots, Partners and Friends,  
2020 was a tough year for most and a challenging one for Eagle Dynamics too. Despite COVID-19, we managed to release several products and core improvements which we hope were up to your expectations. We also changed our Open Beta release cycle and focused more on quality and less on feature delivery. For this we have you to thank, our faithful community. We really count and value your feedback, without your trust and patience, we would never be able to achieve the level of quality and enjoyment that you deserve. Thank you and do keep it up please!
The beginning of the year seems to be posing many of the same challenges, but the team is well organised and we believe that we have a solid roadmap for 2021 that will see the addition of new modules and improvements to the core-DCS program. Please do take a look at our plan below but kindly understand that the dates are our best estimates as of writing this letter and may move around a bit as time goes by. 
In the first quarter of 2021, we will migrate to DCS World version 2.7. While it was planned to release 2.6 in the very beginning of the year, so many additional changes are in the works that we have decided to move directly to 2.7. But prior to this move, we will have one remaining update to version 2.5 that will include many improvements to DCS: F/A-18C Hornet.
As the world moves into more apparent uncertainty, we would like to thank you again for staying by our side in 2020 and for helping us to more 'sunlit uplands' as Churchill so beautifully said. May 2021 be a good year for you and your families, a year full of love, success and health.
Onwards and Upwards!
Yours sincerely, 
Eagle Dynamics Team
DCS World
2021 Roadmap 
Before we discuss the new projects, let's first touch on the support of existing products in 2021:
DCS: F/A-18C Hornet
Finalising this fantastic module is one of our top-priorities and our goal is to have the project out of Early Access by the end of the 1st quarter. In January, we will be adding new functions for expendable countermeasures, Electronic Attack (EA), radar jamming effects, SEA and Ground Moving Target (GMT) radar modes, designated target sharing (TXDSG), the FUEL page BIT, BDU-45 and BDU-45B practice bombs. Following these items, principal items remaining include: the ATFLIR targeting pod and the AGM-88C HARM Pre-Briefed (PB) mode, AGM-84K SLAM-ER, coupled (CPL) autopilot modes. Once out of early access, Hornet support will continue with the addition of the AIM-7P, ACLS mode, WIDE ACM mode, and the Data Transfer Cartridge functions. Thereafter, we will be maintaining and polishing this module on an ongoing basis.
DCS: F-16C Viper
Once the Hornet is out of early access, some of the developers will be allocated to the Viper team in order to enhance their capabilities. Based on customer feedback, their highest priorities  includes completing air-to-air radar modes and functions, additional AGM-88C HARM modes, GPS/INS-guided weapons, expanded defensive systems, air-to-surface radar modes, mark points, additional ICP and MFD options, new weapon delivery modes, and more.
DCS: A-10C II Tank Killer
The Hawg is already nearly complete, but we do plan to deliver some additional features in 2021 that include the ARC-210 radio, updates to the Tactical Awareness Display (TAD), changes to optically guided Maverick slewing, and the long version of the AN/ALQ-184 ECM pod. 
DCS: Supercarrier
Most of our effort on the Supercarrier has been focused on creating the 3D environments for the Ready Room, Air Boss Station (PriFly), and the hangar deck. Other tasks for 2021 include plane directors to marshal aircraft to the catapults and off the landing area, the "burble", deck crew light wands for night operations, unique radio channels for different controllers, and manual LSO control.
New Aircraft
DCS World
DCS: Mosquito FB MK.VI
Our first new product of 2021 will be the impressive Mosquito. This will be our first multi-engine, multi-crew World War II aircraft for DCS World, and it will mark an important capability for future projects. The Mosquito is planned to be released into early access by the end of the 1st quarter of 2021.
DCS: Mi-24P
Named the Hind by NATO, this Russian attack helicopter is a deadly player on the battlefield with an array of Anti-Tank Guided Missiles, twin-barrel 30mm cannons, unguided rockets, and more. Featuring cooperative multiplayer in the front and back seat, the product will offer an even higher level of detail and accuracy than our Mi-8MTV2. With the ability to also act as a troop and cargo transport, the Mi-24P will add an all-new dimension to attack helicopter operations in DCS World. The Mi-24P is planned for release in the 2nd quarter of 2021.
DCS: AH-64D
Perhaps our biggest new aircraft project for 2021, the AH-64D will be the most accurate and detailed simulation of this iconic American attack helicopter. Like the Mi-24P, it will feature front- and back-seat operations in single player and multiplayer. Based on a 2002 Block II version, the AH-64D will be armed with Hellfire anti-tank guided missiles, unguided rockets, and a head-tracking 30mm cannon. The early access AH-64D is planned for release in the 3rd quarter of 2021 and will be available for pre-sales as of February 2021 with a 30% discount.
Note: Due to new Russian Federation laws pertaining to the gathering of information of Russian military equipment, we have had to reconsider our plans to add new systems to the Ka-50. We continue to update the cockpit, as well as a highly detailed updated external model. 
M.A.C
Modern Air Combat (MAC)
Despite the lack of updates on this project, it is still very much alive and we are making continued progress. Much of the work remains on the new gameplay modes, updating the 3D models and cockpits for the MAC aircraft, creating a new input manager "wizard", and continued work on a new Graphical User Interface. We are shooting for 3rd quarter 2021 release, but latest Q4 2021.
Maps
For our maps, we will continue to address bugs and map improvements to the Persian Gulf, Caucasus, and Nevada maps. Most of our map work though is focused on The Channel map and the upcoming, free Mariana Islands map.
DCS: The Channel
We continue to expand this map with additional airfields, including the famous Biggin Hill RAF and Eastchurch airfields in England, two new advanced landing group airstrips, and numerous new landmarks. We plan to release the final version of the Channel map in the 1st quarter of 2021.
DCS: Mariana Islands
Slated to release in the 2nd quarter 2021, this map will first be a modern-day depiction, and it will include Andersen AFB and several other airfields along the island chain. Combined with the Chinese Assets Pack, we see interesting single player and multiplayer possibilities. This is still planned as a free map, and it will later serve as the foundation for our first World War II Pacific Theater map.
New Clouds
Volumetric 
The wait is almost over, and the new clouds for DCS World will be introduced in the 1st quarter of 2021. In addition to being visually stunning, the new clouds will block visual and optical sensor line of sight and be synchronized online. We will initially release the new cloud system with an array of weather presets that will cater to most mission building scenarios. Later in the year, we will update the Weather Tool in the Mission Editor that will allow finer control of the clouds with a dynamic weather system based on a more advanced meteorological engine.
Some of the new / improved visual effects in development for 2021 includes:
Improved helicopter rotor wash over water and ground.
Missile flame and smoke.
Ground unit dust clouds.
Trans-sonic shock cones.
Fuel explosions.
Weapon water splash.
Further explosion improvements.
Smoke grenades.
 We hope to have many of these available in stages throughout the year.
Dynamic Campaign
This massive task has been underway for over two years, and the progress has been exciting. The campaign is built around a Real-Time Strategy (RTS) foundation that factors resources, zones of control, logistics, available forces, and a strategic decision-making system. While we believe internal testing will continue in the 1st quarter of 2021, it is too early to estimate a release date. However, external Beta testing is planned hopefully in Q2/Q3 2021.
Vulkan API and Multi-threading
With the integration of these libraries, DCS will benefit from improved performance throughout, including in virtual reality. This has been a substantial task to develop and integrate into our codebase, but we are nearing the end of this journey, and expect it to be available in the 3rd quarter of this year. 
Damage Modelling
Progress
In the end of 2020, the new damage model system for our World War II aircraft was released. Although some tuning remains, most of our work on this front in 2021 will focus on bringing the technology to our modern aircraft like F/A-18C Hornet, F-16C Viper, and A-10C II Tank Killer. This is an ongoing process which we hope to deliver in stages during the latter half of 2021.
Air Traffic Control (ATC)
Over the past year, our primary ATC focus has been on the Supercarrier. Now that the Supercarrier ATC system is nearing completion, we will next move on to airfield ATC radio communications. Given the scope of DCS World, this is not a simple task, and it will require three separate ATC systems: Western Modern Day, Eastern Modern Day, and World War II. 
Because this effort will require a large amount of new radio voice overs, we will also take this opportunity to update the radio communications for other entities like flight members, other flights, AWACS, tankers, etc.
This will continue to be developed in 2021, but we do not have an estimated release date.
FLIR
New and Improved Forward Looking Infrared
In the modern battlefield, a realistic rendering of FLIR sensors is mandatory, not just for aircraft but also for ground units, unmanned systems, and weapon sensor video. Given the need to create the underlying technology and then create thermal maps for all the world objects, terrain surfaces, and units, this has been quite a large task. We will continue to develop this well into 2021 and we hope to deploy this new FLIR enhancement in Q3 2021.
AI Units
New and Updated assets
Because DCS World is built on a project spanning almost two decades, some units now show their age and will be updated throughout the year. It is also important that we add new units to better fill the battlefields. Here are some of the items that we intend to create or update in 2021:
Large Aircraft: B-52H, Tu-95MS, Tu-142, B-1B, IL-38, and Tu-160
Carrier Aircraft: S-3B and SH-60B
Ground Units: M1A2, AMX-56 Leclerc, Wespe Sd.Kfz.124, KS-19 100mm ADA, Son-4 "Flap Wheel" radar, C1 Ariete, Pantsir SA-22 "Greyhound", and S-300/SA-10 "Grumble".
Enhanced AI
Behaviour
Currently, much of our AI engineering effort is focused on the AI aircraft behaviour, in harmony with the new damage modelling and in line with logical and understandable rules and practices. Additionally, the new ATC and radio communications will demand a significant amount of AI engineering. This work is ongoing and will probably never really be finished but we do hope to deliver substantial enhancements during the latter half of 2021.
We have taken the liberty of limiting this overview to issues which have 'officially' been announced. Rest assured, many secret and exciting developments to the DCS core are ongoing and will be revealed in the fullness of time. In addition to our internal development, rest assured our brilliant third parties are hard at work to bring you some wonderful modules in 2021 and look forward to hearing from them very soon.
Once again, thank you for all your passion and support in 2020. We hope that 2021 will prove to be a good year, one with many upward trends, not only for DCS but for you, our faithful community and for the world at large.
2021 Onwards and Upwards!
Yours sincerely,