DCS World freeware T-45C Goshawk status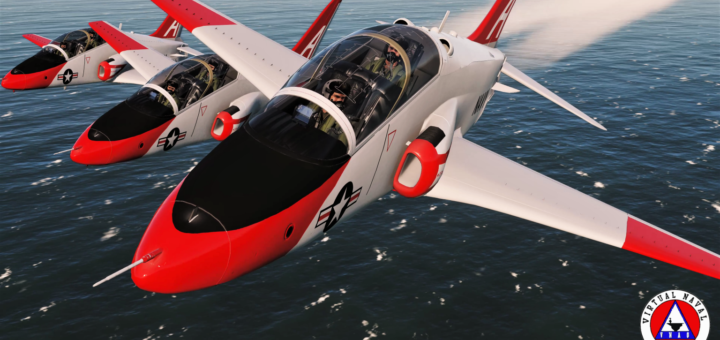 Wat wordt deze gaaf zeg! Deze T-45 Goshawk zal geheel gratis zijn voor de DCS World 2.5.6+ vliegers onder ons. Onderstaande video toont wel aan dat deze aankomende module zelfs verschillende payware addons uit de lucht knalt. De makers zijn de mensen achter "VNAO Carrier air wing seven", en dit zijn zeker geen onbekenden. Nu het mooiste, ze wordt "multicrew!". Bring it on! 😉
The T-45A is the first iteration of the goshawk trainer that is currently in use by the US Navy. The McDonnell Douglas (now Boeing) T-45 Goshawk is a highly modified version of the British BAE Systems Hawk land-based training jet aircraft. Manufactured by McDonnell Douglas (now Boeing) and British Aerospace (now BAE Systems), the T-45 is used by the United States Navy as an aircraft carrier-capable trainer.
VNAO has decided to bring this mod to the community as a way of providing yet one more beautiful carrier-capable aircraft to the ever-popular carrier operations platform. This aircraft fills a niche that was left empty when other trainers, such as the T-2 Buckeye, were cancelled.
The dev team from VNAO is working closely with no less than three real-world pilots who have flown the Goshawk as technical advisers with regards to the flight models and technical systems of the aircraft. The goal here is to make it as realistic as possible.
While it is still early in the project, we felt that it was far enough along to release some pictures and information about the project in an effort to gauge the level of demand for an aircraft like this and get constructive input from the community.
So, please, leave some comments below. We are looking forward to hearing from you. Questions are welcome, but bear in mind that they may not all be answered immediately.
The above pictures are extremely early and do not represent the finished product.
We will update this post as things progress and more pictures and videos will be coming at:
https://www.vnao-cvw-7.com/vnao-productions
Support this project at our patreon https://www.patreon.com/user?u=4816033
Thank you,
__________________
Proud founder of VNAO and current deck jockey with VFA-103