Dutch VACC: Holland – America Line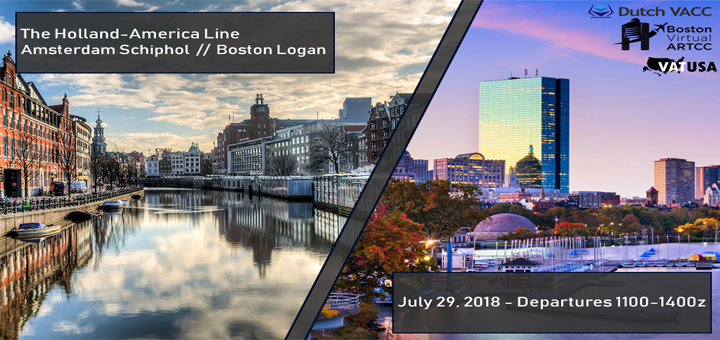 Dutch VACC organiseert op 29 juli samen met Boston Virtual ARTCC een Holland – America Line Vatsim-event. Boek een vlucht, doe de Atlantische oversteek en maak kans op een exemplaar van FlyTampa Boston of Amsterdam scenery. Tijdens dit evenement is er volledige ATC dekking tussen beide velden (inclusief oceanic). Meer informatie en aanmelden? Zie het onderstaande persbericht:
Looking to win a free copy of FlyTampa Boston or Amsterdam? Book a flight and complete the transatlantic crossing during our "Holland America Line" VATSIM-event on the last Sunday of July! Still some slots left, grab yours now before it's too late!

Come join the Boston Virtual ARTCC and Dutch VACC for a long-haul, trans-Atlantic, inter-division jamboree! From 1100 till 1400 UTC on Sunday, July 29th, we'll have Amsterdam Airport Schiphol staffed to the gills to accommodate departures, and will have all en route facilities staffed for a flight to Boston Logan Airport, where the Boston Virtual ARTCC will provide a full staff to sequence arrivals and get them onto the ground.

Bring your favorite long haul aircraft, your business jet, or whatever you want, and join us for 7+ hours of packed airspace and professional air traffic control!

As well, we're excited to announce that scenery developer FlyTampa will be sponsoring the event and offering prizes to some pilots in the form of free Boston or Amsterdam sceneries! Prizes will only be awarded to pilots who book a flight, so make sure to go book asap!