FlightControlReplay v4.5 voor MSFS komt in januari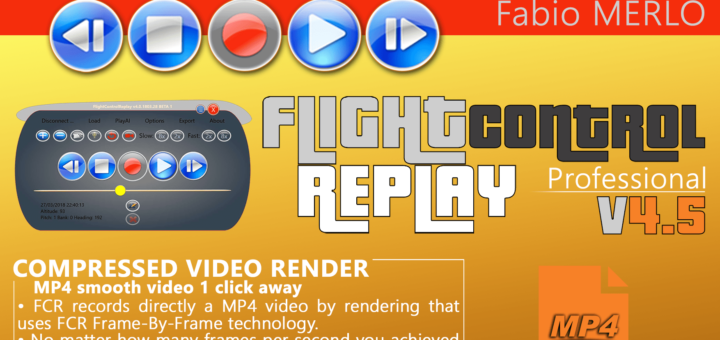 Een belangrijk gemis binnen MSFS is de mogelijkheid om filmpjes op te nemen en terug te kijken van al je prachtige sim momenten. Goed nieuws! In januari komt FlightControlReplay v4.5 met ondersteuning voor MSFS uit. Lees verder voor alle info, heb je overigens al een eerdere versie? Lees dan vooral verder voor de hoge korting die je krijgt bij de aanschaf van v4.5. Hieronder alvast een prachtig preview filmpje. Enjoy!
The new version of the software has entered closed beta and already being demonstrated by a few YouTubers highlighting some of the features to come with the new update. With the software, users will be able to capture, record and replay their flights using the UI for FlightControlReplay. The video from tester Captain Mayday demonstrates all of the features in the update in the video below.
As mentioned, the update to version 4.5 will be free of charge for all customers. So if you want to get the product ahead of time, you can pick it up from simMarket for the reduced price (there's a sale ongoing) for €14.40.
The current updated feature list is down below.
"New Video Rendering Mode" (COMPRESSED VIDEO CAPTURING and FrameByFrame rendering choosing your preferred FPS )
"New Video Rendering Speed option" (1/4 – x4) for User Object and also for AI objects
"Change Camera Record" Feature (ChangeCamera management are working for MSFS and P3D natively, for FSX you can choose change camera only after you configured HotKeySelect in CameraDefinition files , please refer to FSX Documentation )
Record/Play Algorithm enhancements for User airplane and also for AI planes (Now you are able fly in-formation flight with a max of 3 AI planes at time)
Microsoft "Surface Dial Integration " (This works for MSFS and for P3D – FSX it is not compatible)
FlightIllusion "GSA-42 integration"
DOFREALITY Motion platform support