Fly the Maddog X 64 update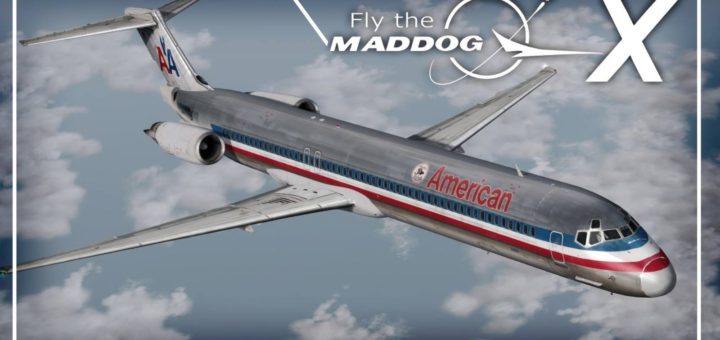 Voor de bezitters van de practige "Fly the Maddog X 64bit edition" is er goed nieuws! Versie 1.6b554 is uitgekomen en brengt veel verbeteringen en extra's met zich mee. Het meest bijzondere om te noemen vind ik dat u nu samen met uw maatje de cockpit kan delen via "Shared cockpit" en vluchten samen kan uitvoeren. Deze update beteft zowel het basispakket (MD-82) alsmede het "MD-83 & MD-88 variants expansion pack"  U vind de nieuwe installers hier. Lees verder voor alle info:
Hello Captains.
Today is the day we finally deliver one of the most wanted features in Fly the Maddog X!
Shared Cockpit doesn't need further introductions, it simply opens complete new training scenarios and allows us to further raise the bar of the immersion level you can achieve with Fly the Maddog X.
This version is released as an incremental installer and needs a complete 1.5b506 as prerequisite for running, it's free for all customers and is an "open beta" for general public who wants to partecipate. It's been heavily tested, thanks to an excellent and competent group specialized in Shared Cockpit; but before jumping to new full installers, as usual we like to deploy what we consider a stable and sturdy release to a wide group of customers to see and fix anything else we didn't consider during the testing stage. If everything is good, full "official" installers will appear in your simMarket account in some 2 weeks.
This build focuses on Shared Cockpit, but not only. In the changelog below you'll see a lot of other improvements, I kindly ask to read the included documentation (that has received a major overhaul and the addition of new stuff, i.e. Shared Cockpid Guide and new OM Volume 2 chapters) because there are a couple of new items that could be different from what you are used to, that you must get familiar with:
– We have added ground/flight modes for spoilers/autospoilers. You won't be able to arm spoilers in flight anymore, unless you are on final configuration with landing gear extended, as in the real aircraft.
– We have added each single custom Fly the Maddog X command to the Events facility in load manager, fixed previous issues and added a new toggle option for "toggling switches" (i.e. MECH CALL button), plus auto-assignment of joystick parameters on button press (when adding new command bindings); nearly everything can be configured now with ease. The Events page is a powerful tool, but needed a bit of rework; we hope you will be able to take maximum advantage out of it.
– Axis assignments. During beta testing, we've seen the majority use FSUIPC for joystick calibration and axis assignments. FSUIPC is a great tool, it works very well with a lot of add-ons but Fly the Maddog X is not an ordinary one, we use custom coding for almost everything and this takes the simulation far beyond the "standard": for this reason, there could be issues if FSUIPC is not properly configured and this is described in the documents that, again, I ask you to read.
Talking about the future. This build brings a folder structure change inside your %Documents%\Maddog X file folder (don't worry, it's all automated and all your stuff won't be modified) in order to accomodate Prepare3D v5 release (and other platform support generally) keeping a shared common data base among different version but having them separated and independent  in terms of settings, airframe, repaints etc.
Prepar3D v5 DX12/Truesky are an awesome addition to an already reliable and visually appealing platform, and we believe version switching is worth; but until the whole "ecosystem" is available most of us will keep using 4.5, or in parallel with v5 at least. In our opinion, this particular situation must be as easy as possible to manage for customers and that's why we have introduced those above-mentioned structure changes today with this release.
Fly the Maddog X will enter beta testing on Prepar3D v5 launch, you can expect all features available today in v4.5, except TFDI's TrueGlass (that will be ported for v5 as soon as possible).
Even if Prepar3D v5 guarantees a good degree of backward compatibility (and this is true axpecially for aircraft systems coding), Fly the Maddog X makes extensive use of custom effects, dynamic lighting and we are among the very few having FULL PBR models for internal and external models.
Prepar3D v5 has changed a lot in those compartments, and we will have to rework the whole graphics; we don't want to simply make new installers with the correct paths (in case you were wondering, simple copy/paste of v4.5 into v5 won't work), but obtaining again the BEST possible result we can achieve and exploit all new features v5 offers.
This requires, from our side, time to work it out. And this why, even if nearly every other developers will be offering free upgrades, we won't.
But we're not the kind who like milinkg the cow, for this reason Fly the Maddog X for Prepar3D v5 will cost a bit more than v4.5 considered the additional work, BUT all current 32bit/64bit customers will be entitled for a discount that will allow you to buy it just for the difference of the versions. Owners of the MD-83/MD-88 expansion, when upgrading the MD-82 to v5 will receive the v5 MD-83/MD-88 expansion free of charge.
Timefrime for the v5 release, and pricing tag, are strictly subject to the involved work we will need to produce a version up to our standards.
And after v5 release, we can't wait to reveal our new expansion for Fly the Maddog X, this time focused on training!
Thanks for reading, it was long, but I hope I've covered everything.
Stay safe and blue skies!
1.6b554 Changelog:
>>>>[FIXED]
*AIRCRAFT SYSTEMS*
– code optimizations and various minor issues fixed;
– PMS not accepting block fuel >19T in MD-83 variant fixed;
*3D MODEL: INTERNAL*
– fine tuning of PBR materials and glasses transparency;
>>>>[NEW]
*AIRCRAFT SYSTEMS*
– added Shared Cockpit feature;
– added delay in FMS when recalculating vertical profile;
– new spoiler/autospoiler logic modelled with ground and flight modes;
*3D MODEL: INTERNAL*
– new spoiler lever model with flight/ground mode animations;
*LOAD MANAGER*
– added Shared Cockpit interface;
– new custom commands added;
– complete Events page overhaul, with new toggling option and auto-assignement of joystick parameters upon button press;
*SOUNDS*
– new autospoiler sounds;
*DOCUMENTS*
– all documents revised, included OM;
– OM vol.2 ch.8 Procedures guide added;
– OM vol.2 ch.8 Normal Checklist added;
– OM vol.2 ch.8 Cold Weather Operations Checklist added;
– List of Commands added;
– List of Documents added;
– ACARS tutorial added;
– PFPX Profiles added;
– Guidelines for painters added;
– Shared Cockpit Guide added.