Gratis Savage Grravel "Monster Truck in the Skies" voor MSFS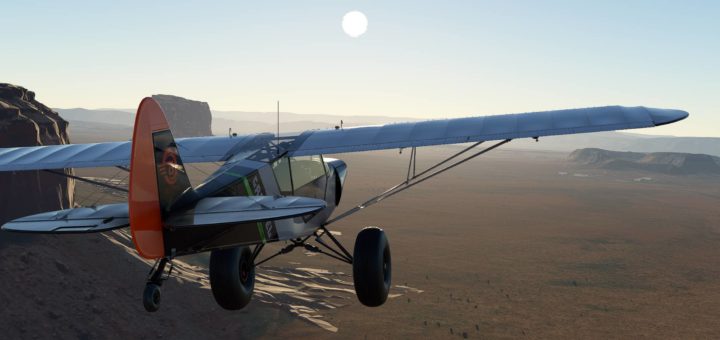 Voor MSFS is er nu de Savage Grravel "Monster Truck in the Skies" te downloaden. Een geweldig stoer Bush kistje dat zwaar geïnspireerd op Mike Patey's eigen "Scrappy". Deze Mike is o.a. een kampioen in het zogenoemde wedstrijd "STOL" vliegen. Dit houdt in "landen en opstijgen binnen de zo kort mogelijke meters". Ja je leest het goed……….. "meters!" (Zie onderstaande video). Je vind deze gratis en van absolute payware kwaliteit add-on hier, incl alle info:
SAVAGE GRRAVEL – MONSTER TRUCK IN THE SKIES
The Savage Grravel is a monster truck in the skies, heavily inspired by and paying homage to Mike Patey's Scrappy. She's got a converted Ford Mustang 230HP 2.5L V6 engine, a massive 7 foot Whirlwind STOL optimized prop and 35″ Alaskan Bushwheels.
Grravel is a beast of a STOL machine, essentially a monster truck version of the Savage Carbon. She's heavier, more powerful, and just…more extreme.
230HP 2.5L V6 "Ford Mustang" engine, adapted for use in a cub.
35″ Alaskan Bushwheels.
Massive 7 Foot prop.
2 x 27 Gallon tanks to feed the thirsty V6.
Reinforced structure, higher MTOW.
100lbs heavier than the standard Savage Carbon.
Comfortably cruises at 130kts, punch it to hit 150.
Sustained climb rate of 4000fpm.
800nm range at sea level at 4500RPM.
Wider wheelbase.
King Shock absorbers and upgraded suspension.
Powerful disc brakes.
A 3rd monster flap (60 degrees!) so you can fly slower approaches, with higher sink rates, giving you 15ft landing bragging rights.
Flaps move faster so you can pump them for short take offs and retract them at touchdown for maximum braking power.
Supurb ground handling
Vortex Generators on wing and tail are accurately simulated, delaying stalls and enabling those slow STOL approaches.