iFly 747 V2 SP1A uitgekomen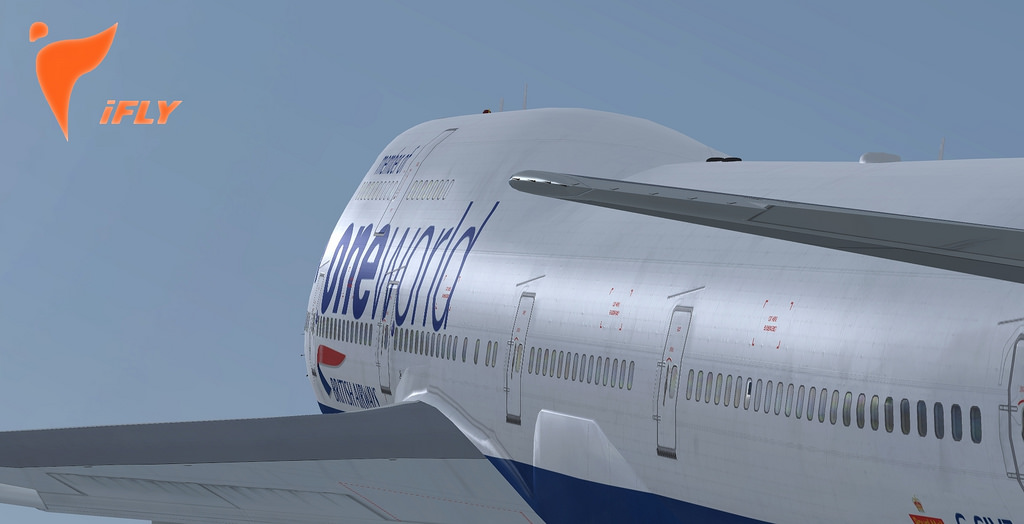 Via Flight1 is gisteren een nieuwe update uitgekomen voor de iFly 747v2. Er is veel wat verbeterd is, maar het meest in het oog springende is de performance. Op Sydney (FlyTampa versie) worden verbeteringen van 11 naar 25fps gemeld. Dat is meer dan een verdubbeling!
Hieronder kun je de release informatie vinden zoals die door iFly bekend zijn gemaakt.
Hi All,
We are pleased to announce the release of Service Pack 1a for the iFly 747-400 simulation for FS2004, FSX/FSX – SE, P3D 2.5 and 3.0.
Service Pack 1a is all inclusive and replaces Service Pack 1.
The Service Pack brings increased fidelity and refinement across all aircraft systems and also features enhanced models and external textures.
The air files are fine tuned with CLB and DES performance as close to real performance charts as we could get it.
This update involves significant improvements to realism, including FLAP logic, VNAV logic and the APPROACH phase of flight, as well as improvement in the visual aspects of the simulation.
FLAP logic, VNAV and FMC logic during APPROACH now model what occurs in the real aircraft.  Refinements to the model will be spotted by those with sharp eyes and above average attention to detail.
The Beta Team lists the following as their favorite improvements to the simulation (listed in no order of preference):
1. For FSX and P3D:  Dynamic Interactive Panel Flood and Back lights for the 2D & Virtual Cockpits.
2. For FS2004:  Static Flood lights in the Virtual Cockpit and Dynamic Interactive Panel Flood and Back lights for the 2D panels.
3. FMC "On Approach" mode.
4. Dynamic wing flex on-ground and in-flight.
5. Refined FDE, including hand flying characteristics.
6. Attention to detail by the modelers.
7. Refined Autopilot.
Also in the SP:
1. Revised mouse scroll and click spots.
2. Revised paint-kits.
3. Revised SDK.
4. Updated liveries which take advantage of model refinements.
5. Improved go around logic.
NOTE: SP1a includes a refinement to the gauges which decreases the variation in fps seen by users.  This refinement is dependent on pc hardware and how users have installed P3D and which settings are applied.
The installer also includes the following:
Further refinement to FMC handling of short routes.
FLAP extension and retraction positions corrected.
Some Key Assignments labels corrected.
Trim indicator on during Cold and Dark, fixed
SEL and OAT display on the CDU THRUST LIM and LEGS, RTE DATA/Wind pages when <st1:country-region>US System selected corrected. (TAT is ALWAYS in Celsius no matter if the <st1:country-region>US System is selected for UNIT's)
Version number is now updated to V2.1.0.1 (Visible on the plate under the Gear lever).
The revised 747-400 Tutorial includes changes to aircraft operating procedures required by system refinements, and the new Tutorial Addendum adds more detail on the FLAP, VNAV and APPROACH characteristics of the simulation.
Users are advised to read and understand these new procedures in order to have an enjoyable experience.  These documents are installed at <FS Installation root>\iFly\744\Manual, with shortcuts on the desktop.
AIRAC:
Due to our license agreement SP1 will install AIRAC 1506.  Users with a Navigraph subscription will want to install the latest AIRAC.
Customers can head over to the Flight1 File Library http://library.flight1.net where you will find SP1 enhanced liveries to appear, and over time more liveries will be uploaded as they are completed by ourselves or other re-painters
Re-painters can also head over to the Registered Licensed Members Paint Forum http://ifly.flight1.net/forums/forum_topics.asp?FID=6&title=painters-forum where you can be on the lookout for new SP1 repaint Kits by Maxime and iFly.
All Registered Licensed Customers can now head over to the various support sections where you will find information and links to the Service Pack 1a,
Please read the posts to avoid any confusion and frustrations.
http://ifly.flight1.net/forums/default.asp?C=4&title=ifly-747400-series-licensed-member-forums
Prepar3D v3 (P3Dv3) new users can head over to the Flight1 Product page http://www.flight1.com/products.asp?product=ifly744p3d where you can get the full all inclusive (v2.1.0.0) Flight1 E-Commerce wrapper.
Users of Prepar3D v2 can use the same Flight1 E-Commerce wrapper together with there previous iFly 744v2 purchased key, extract and re-install also to P3D v3 for free.
New or current customers should obtain the SP1a from the Licensed Members forum.