Microsoft "Flightsimulator" 7 mei update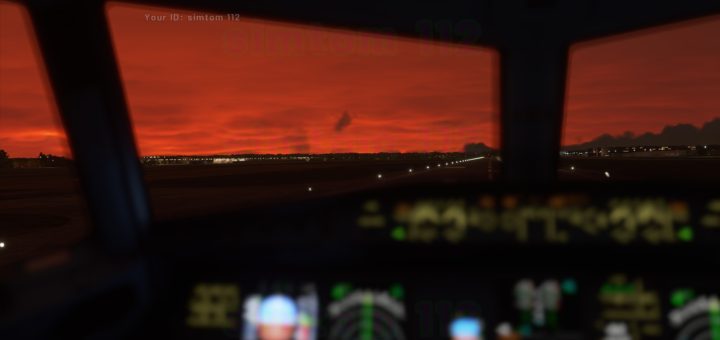 Het was weer donderdag en dus is het tijd voor? Veel lees en kijk plezier allemaal!
May 7th, 2020 Development Update
Screenshot by OperatorLand468
"We would like to see rapids in rivers, with fly fisher-people on the banks. There should be snakes, on the banks, and salmon leaping up the rapids. We need bears… we need bears catching the salmon, and it would be ideal if we could fish. Furthermore, we'd like an accurate climate change model with Icebergs and Antarctic Ice shelves breaking off from the mainland with Polar Bears and Seals. And finally, if MSFS does not accurately model the Sun's eventual evolution into a Red Giant, we question their long-term commitment to the sim."
Alright, so let me see… we've got an order of rocky water rivers with a side of curly fries and fish sticks. One order of wild salmon with a side of claws. One ice cream with gummi bears and sea salt toppings. Also one bottomless tequila sunrise. If that looks right, please pull forward to the first window.
– MSFS TEAM
Here is an update on the current postponed deliverables:
MAY 28th – EPISODE 8 (IFR) is our current target release date.
EARLY JUNE – Partnership Series update will be released.
ALPHA BUILD UPDATE 1.3.X.X IS COMING NEXT WEEK!
The team has started preparations for releasing the upcoming Alpha build. We've spent a few extra days incorporating a number of fixes for the Airbus A320 based on feedback from the community testers. We've completed integration and now just running a final pass to ensure everything is working, as expected.
WEEK OF MAY 11th – Alpha Build Update 1.3.X.X.

Release Candidate in build release preparation.
Build notes in final review phase. Prepped for release.
ALPHA INVITATIONS
The team has completed step 1 of the process outlined below. We have started working on step 2 and will be releasing a new round of invitations starting next week in tandem with the release of the updated Alpha build.
Ensure that everyone that received an acceptance email has access to the Alpha.
Assess Alpha participation options for adding more people as quickly as possible.

Prioritize access for those that registered early for pre-release build testing.
Status – Prepping for release
DEVELOPMENT ROADMAP
We have released version 5.01 of the Development Roadmap (June/July preview).
If you are interested in checking out the updated DR, please head into the Insider Area.
FEEDBACK SNAPSHOT
MORE AMAZING SCREENSHOTS FROM ALPHA TESTERS
Video by OperatorLand468
Video by ChicoMick
Screenshot by WhiteLight506
Screenshot by TheFlightSimGuy
Screenshot by Tomlaut1980
Screenshot by Tomlaut1980
Screenshot by Tomlaut1980
Screenshot by LunyTable74073
Screenshot by ArsenicAunt96
Screenshot by Fhcraig
Screenshot by Simtom112
Screenshot by WhiteLight506
Screenshot by LumpyCentipede
Screenshot by WhiteLight506
Screenshot by WhiteLight506
Screenshot by WhiteLight506
Screenshot by Wolff123 05
Screenshot by Simtom112
NEXT UPDATE – 05.14
Sincerely,
Microsoft Flight Simulator Team