Orbx Cityscape Sydney voor MSFS uitgekomen
Geplaatst op 9 oktober 2020 @ 12:04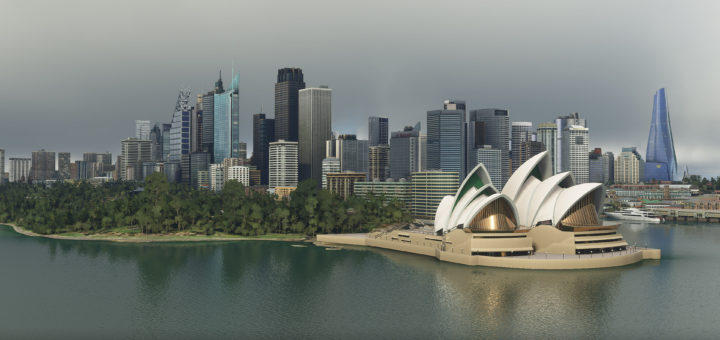 Orbx heeft hun prachtige Cityscape Sydney voor MSFS uitgegeven. Hier te koop voor 19.99 AUD. (12,17 EUR). Echt een koopje! UPDATE: Zojuist hebben we deze scenery een uur getest, en de resultaten zijn verbluffend. Totaal geen verlies aan frame-rates en een prachtige scenery die we zelden zijn tegen gekomen. eerste indruk score is 5/5 sterren, een absolute aanrader!
Orbx is proud to return to our roots with our very first Australian product for Microsoft Flight Simulator – Cityscape Sydney! Over nine months in development, Cityscape Sydney is an enormous project that pushes the boundaries of what is possible with the current MSFS SDK.
Acclaimed developer Frank Schnibben (Cityscape Honolulu, Melbourne Cityscape for AUv2) has brought to life Australia's largest city with his debut MSFS scenery with the assistance of our in-house team. A complete cityscape, the scenery captures the feel and energy of the harbourside capital, with thousands of details and features across the entire metropolitan area.
Over 100 custom points of interest have been faithfully recreated, including the city's tallest skyscrapers, well-known icons, sports stadiums and bridges. Whilst most of these have been created with a high level of detail that prioritises high optimization and unique PBR texturework, we have created a few ultra-high-detail "hero assets" – models that rival airport terminals in terms of detail – perfect for exploring right up close. You can see this in action with our incredibly detailed Sydney Harbour Bridge – the centrepiece of this scenery.
Custom aerial imagery replaces the default Bing ortho for the inner suburbs, airport and CBD of Sydney. We made the decision to use our own ortho as it is a vast improvement over the default; fidelity, colour quality, source resolution and tonality, as well as Frank's hand-editing bring this feature to life. Additionally, water colour and detailing is greatly improved; the world-famous beaches of Bondi and Coogee look far more realistic and vibrant. Watermasks in the central parts of the scenery have been totally replaced, more accurately depicting coastlines.
Frank has also totally replaced over 28,000 primary buildings with his own custom-designed models in complete 4k PBR. This vastly improves the type, footprint height and roof types of the most standout towers, residential blocks and commercial buildings not covered as points of interest. These improvements extend far beyond the primary coverage zone – major suburban centers such as Parramatta, Chatswood and dozens more have been replaced. Lastly, Port Botany next to Sydney Airport has seen a major overhaul, with detailing and improvements to this landmark that is visible on all flights into and out of the airport.
Key Features
Our first Australian scenery for MSFS
An entire Cityscape covering the City of Sydney
Airport terminal-quality Hero Assets such as the Sydney Harbour Bridge and Crown Tower
103 Custom PBR landmarks across the Sydney metro area
28,000 replacement buildings with corrected heights, footprints and building types
250km2 of pristine custom aerial imagery – perfectly colour balanced and hand-edited
Photoreal coverage including CBD, eastern suburbs, inner west & airport
Custom boats and ferries unique to Sydney
Thousands of placed objects to bring the Harbour City to life
Stunning night lighting, including improved Opera House lighting
Replacement watermasking for more accurate coastlines
Improved tree heights in select locations
Improved suburban centres and POIs beyond the primary coverage zone
Port Botany recreated
From acclaimed developer Frank Schnibben, with assistance from our in-house team
Gerelateerd