Razbam Harrier AV-8B voor DCS released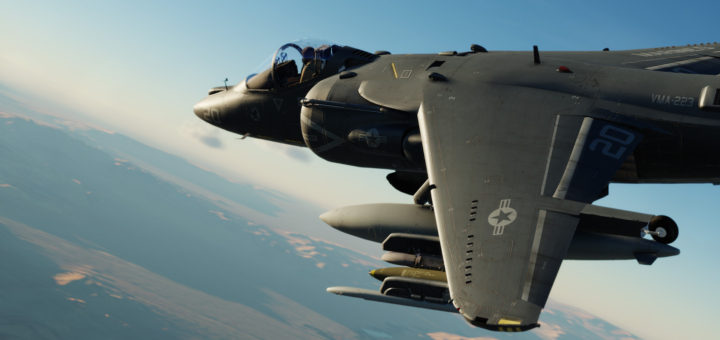 De Harrier heeft met zijn geweldige power en zijn indrukwekkende geluid altijd al enorm tot de verbeelding gesproken. Het AV-8B-project is een doorontwikkeling van de AV-8A eerste generatie Harrier met als doel de mogelijkheden en prestaties van de vroege AV-8A's drastisch te verbeteren.
De AV-8B maakte zijn eerste vlucht in november 1981 en ging in januari 1985 in dienst bij het Korps Mariniers van de Verenigde Staten. Later evolueerde het naar de AV-8B N / A (Night Attack) en AV-8B Harrier II Plus. Het toestel werd bovendien gebruikt door de Armada Española (Spaanse marine) en de Marina Militare (Italiaanse marine).Een variant van de AV-8B, de British Aerospace Harrier II, werd ontwikkeld voor het Britse leger. De TAV-8B is een speciale versie voor tweezits trainers. De Harrier II en andere modellen van de familie Harrier worden "Jump Jets" genoemd.
Razbam Simulations ontwikkelde deze AV-8B N/A VSTOL  "Jump Jet" voor DCS (versie 1.5.8) en naar eigen zeggen betreft het hier een study level simulatie. Dat wil zeggen dat er veel aandacht besteed is aan de uitwerking van de cockpit (high resolution textures), het external model zelf en niet te vergeten de flight dynamics. Het toestel is daardoor niet goedkoop; op de DCS website kan het toestel voor $69 (ongeveer € 58) aangeschaft worden. Tevens is het mogelijk om het product via de DCS World Module Manager te downloaden en te installeren.De specificaties van de DCS Harrier vind je hieronder en een spectaculaire trailer vind je hier:
Key Features of DCS: AV-8B N/A VTOL by RAZBAM include:
Advanced Flight Model that provides realistic performance and flight characteristics of a Vertical Takeoff and Landing (VTOL) aircraft
Highly detailed external 3D model and textures with animations
Highly detailed and accurate 6 DOF cockpit with high resolution textures, specular and bump mapping, and mouse-interactive controls
Highly realistic modelling of the aircraft systems including electrical, fuel, hydraulics, lighting, engine and navigation that includes:

Digital Engine Control System (DECS)
Automatic Fuel System
Air Refueling System
Electrical Power System
External Lighting
Internal Lighting
Hydraulic Power Supply System
Flight Control System (FCS)
Head-Up Display (HUD)
Up-front Control (UFC)
Option Display Unit (ODU)
Multipurpose Color Displays (MPCD)
VREST Computer (for jet-borne flight)
Air Data Computer (ADC)
Environmental Control System (ECS)
On-Board Oxygen Generating System (OBOGS)

Realistic weapons, sensor, and defensive systems include:

Air-to-Air and Air-to-Ground GAU-12 Equalizer 25 mm (0.984 in) 5-barreled Rotary cannon pod
6 under-wing pylon stations holding up to 9,200 lb (4,200 kg) of payload which include:
AIM-9 Sidewinder or similar-sized infrared-guided missiles
AGM-65 Maverick Air-to-Surface missiles
Mark 80 series of unguided bombs (including 3 kg [6.6 lb] and 14 kg [31 lb] practice bombs)
Paveway series of Laser-Guided Bombs (LGBs)
Joint Direct Attack Munitions (GBU-38, GBU-32, and GBU-54)
Mark 20 Cluster Bomb Units (CBUs)
AN/AAQ-28V LITENING targeting pod

ALQ-164 ECM Pod
Several skins
Detailed Operational Manual and Pocket guide
Instant Action, Single, and Training Missions
Detailed representation of the USS Tarawa (LHA-1), lead ship of her class.