Released: Burning Blue Design Goodwood Aerodrome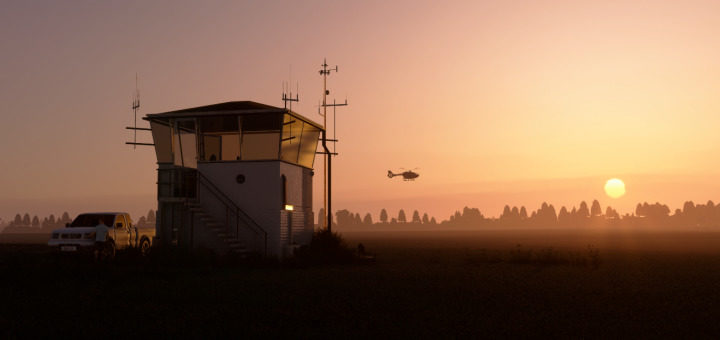 De ontwikkelaars van Burning Blue Design hebben Goodwood Aerodrome (EGHR) uitgebracht voor Microsoft Flight Simulator. Dit vliegveld ligt in het zuiden van Engeland en is van origine bekend als RAF Westhampnet. Het is gebouwd gedurende de Tweede Wereldoorlog als uitwijk voor het nabijgelegen RAF Tangmere. Na de oorlog kwam het vliegveld in private handen en hernoemd naar Goodwood.
Vandaag de dag is het vliegveld een thuisbasis voor een vliegschool, en veel GA verkeer. Daarnaast is het terrein ook bekend door het racecircuit wat om het vliegveld heen is gebouwd. Dit is tevens het enige klassieke racecircuit (1948) wat nog in gebruik is.
De scenery is verkrijgbaar bij Orbx. Bekijk alle features hieronder.
Features:
Goodwood Aerodrome has been recreated faithfully over many hundreds of hours by Burning Blue Design's modellers and coders with multiple on-site visits, and features:
Over 200 custom 3D objects have been created exclusively for Goodwood Aerodrome, each with full Physical Based Rendering (PBR), allowing for far more realistic textures.
There are tens of thousands of carefully placed stock assets, every sign, speaker, bench and tree, along with an assortment of ground workers and visitors, has been placed in the correct location ensuring an atmosphere of a working airfield.
High resolution colour corrected ground textures taken from Bing maps and manipulated for consistency and realism which far surpasses the quality of the stock Microsoft Flight Simulator 2020 ground texture.
Based on 2022 layout with accurate runway markings, taxiways and custom taxi signs and a working custom Windsock.
Highly detailed control tower and hangar interiors and animated hangar doors which close and open between dawn and dusk.
Full night lighting has been placed across the airfield and within and around the hangars and buildings.
Correct AI pattern procedures and accurate taxiway and runway placement have been incorporated into the release.
Goodwood House and Chicester Cathedral have been modelled and included.
Actual aircraft from the aerodrome the have been included and placed in accurate locations: Supermarine Spitfire Mk IX G-IRTY 'The Silver Spitfire'
Supermarine Spitfire Mk IX RR232 'City of Exeter'
T6 Harvard IIB/T6 Texan G-AZSC
Goodwood Flying School Cessna 172's: G-HLOB, G-LOOC, G-DBOD, G-NXOE & G-SOOA.
Goodwood Flying School Piper L21B Super Cub G-DRGL
Goodwood Motor Circuit has been enhanced along with the aerodrome, this includes:
The Full motor circuit track layout has been faithfully recreated with marshall posts, track markings, track signs, crash barriers and rumble strips. It's so true to life you can actually race on it.
The pit lane and spectator stands have been added along with a fully numbered paddock area and additional shops, stands and amenities.
The Jackie Stewart Pavillion, Race Control Building, Motor Circuit Cafe, Goodwood skidpan and Supershell Building have all been added and placed in their correct locations.