Released: PMDG 777 voor P3D v4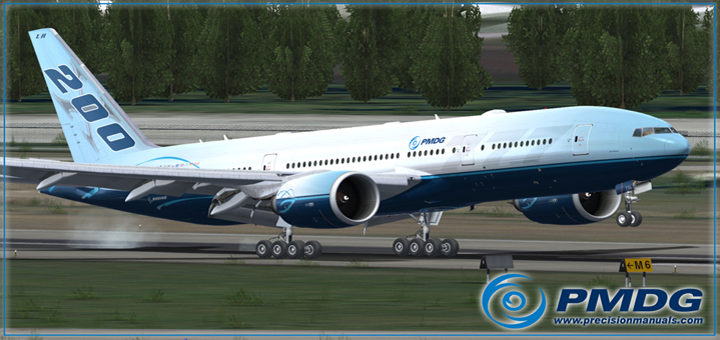 Zojuist heeft PMDG haar Boeing 777-200LRF uitgebracht voor Prepar3D v4. Het toestel maakt volledig gebruik van alle nieuwe features in V4. Na de -200 serie kunnen we binnen enkele dagen een update voor de -300 serie verwachten. Hieronder lees je het officiele persbericht van PMDG:
A few moments ago, we published our first x64 update to the PMDG 777-200LR/F, the first of a couple updates coming to the 777 product line.

This updates the 777 within our Prepar3D product line so that you can use it in either Prepar3D v3 or Prepar3D v4.

THESE NOTES ARE IMPORTANT – PLEASE READ THEM:

This is a complete product and installer rebuild, thus requiring that you download the entire (nearly) 900MB installer anew from your PMDG eCommerce account.  I will include the installation instructions a bit lower down for those who need them.

As of this version, we are still awaiting a x64 compatible RAAS module from Bryan York at JetExpress/FS2Crew.  He will provide it to us when it is ready, and we will push it to you via a microupdate a bit later on.  RAAS works normally in P3D v3, but it does NOT work in P3D v4.

Saved flights are not currently portable between our 32bit FSX/FSX-SE/P3Dv3 offerings and the P3D v4 product line.  We are looking to address this for a future update, so for now do not attempt to move saved flights back and forth between 32 and 64 bit product lines and you won't have any problems.

It is important also to point out that we have disabled the ability to use FSUIPC to connect the 777 to Squawkbox/IVAP while we work through some compatibility issues that create problems for the operation of the airplane for some users.  This disablement is expected to be temporary.

Other than these warnings, you should find that the Prepar3D v4 edition of the 777 is a much smoother operating product thanks in part to the advancements Lockheed Martin has achieved with their simulation platform.

INSTALLATION INSTRUCTIONS:

Go to www.precisionmanuals.com and log in to your PMDG eCommerce account.

Click on VIEW PREVIOUS ORDERS

locate your order record for the PMDG 777-200LR/F Queen of the Skies II for Prepar3D.

Click on the download link, and await the download of the 777-200LR/F.

If you have the Prepar3D v3 version of the 777 currently installed, uninstall it now.  (Yes, you must.)

Run your new installer.  If you have only one version of Prepar3D installed, it will offer to install for that version.  If you have both Prepar3D v3 and Prepar3D v4 installed, it will offer you the option to choose which version(s) you would like to install.

Complete the installation.

The Operations center will update itself at the conclusion of the installation, and then it will run and offer you the ability to repair your livery installations.

The ship is now yours, Captain- go have fun!

Quick note for FSX/FSX-SE users:  We will be pushing an update to bring the FSX version of this product up to a matching standard with the Prepar3D v3/v4 version, but it might be a day or two as we are a bit overwhelmed with all of the moving pieces we have on our hands this weekend…  Stay tuned to the Operations Center for your update!

AEROSOFT-CD/DVD & DOWNLOAD CUSTOMERS We completed this update on Saturday morning, 10JUN17. It will take a few days for us to get all of the necessary pieces to Aerosfot so that they may update their own DVD and Download customers. We apologize for the inconvenience, but this update is simply too comprehensive to be bundled into a micro-update for instant installation. We anticipate having all of the pieces to Aerosoft for their distribution on 15JUN17.