Update voor X-Crafts E-Jets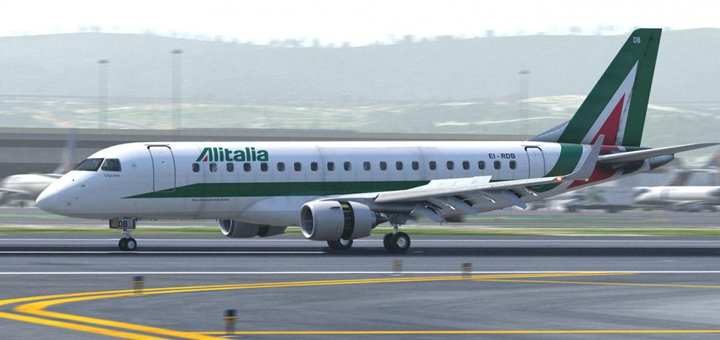 Vandaag weer een mooie grote update voor de Embraer serie van X-Crafts. Met deze update komen we aan bij versie V2.3 van de Embraer 175 en 195 voor XP11. Naast veel verbeteringen aan de systemen is zijn er ook diverse verbeteringen verwerkt in het sound-pakket van de Embraers. Hieronder een overzicht van de release notes:
Embraer E-Jets v2.3 Complete Release Notes
MFD heading and compass rose now display correct values
Revised the (Options) Menu, Pushback Menu and Checklists to be resizable as well as moveable
Pop-Up Menus are now bigger if a 4K screen is detected
Fixed all the reflections on the windshield and side windows of the cockpit – they were barely visible in XP11. Remember you can always disable them with a click of a button! Please check the manual for more information.
Horizon on the HUD is now actually on the Horizon!
Click regions on the PFD/MFD screens now work correctly even if the screens are swapped
Starters are now air driven
Revised systems settings to reduce the number of master cautions and warnings on startup – also disengaging the FD will not trigger annunciators
Changed the dataref for locking cockpit door to deconflict with FMOD
Integrated the Terrain Radar plugin into the MFD The Terrain Radar plugin has to be downloaded separately
*To enable the all new OTTO™ autopilot, lock the cockpit from the pedestal and then look into the cockpit from the outside
Terrain Radar Plugin: The E-Jets are now compatible with the awesome Terrain Radar plugin. Please download the plugin from this link and install it into the X-Plane main plugins folder (X-Plane/resources/plugins). Once it is installed the plane will recognize it and you will be able to enable/disable the Terrain Radar or the vertical status display by a menu on the lower right of the MFD.
FMS / Menus:
Added capability of loading version 1100 flight plans within the capabilities of the FMS  This does not mean loading procedure/runway data that has been added to the header area, but does allow the FMS to extract the same data from the new format that was loaded from older format fms files
Added capability to save LOADED flight plans in addition to saving only the ROUTE
Runway visual departure and visual approach placement improved, using accurate runway heading data from airports.txt
Revised procedure waypoint types FA/VA/CA  (fix to, vector to, course to an altitude) so that positioning of the waypoint is more likely correct and/or does not crash the sim
Added correct units display to PERF2 when user selects KG instead of LBS
Improved SASL initialization to more reliably reinitialize when the aircraft is reloaded/moved, and also added command to silence the annoying MASTER CAUTION alert that has always been present whenever the sim loads
The Menu, Pushback and Checklist flyout tabs are now locked in place and cannot be moved away from the left side of the window in error
PERF 2 now uses HH:MM instead of decimal hours for the predicted time of flight
PERF 3 has correct units displayed for the predicted approach weight
Updated the SASL initialization routines so that the terrain radar is not on by default
FMOD: E175 / E195
Assigned GPU to a different dataref
Adjusted engine interior volumes, increased by 6dB
Increased "hum" sound when next to the engines in the cabin
Added a hint of more wind on the front engine interior
Added Doppler to engine exterior
Increased engine start volume
Adjusted front wind exterior
Adjusted sound extent for bleed air
Adjusted engine exterior audible distances, higher pitches are audible further
Added a distant blast sound
Lowered volume a bit to prevent distortion on some systems
E195
Added a second high power sound to give the engines a slightly lower tone
Lowered volume a bit to prevent distortion on some systems