VSKYLABS FA Tensor 600X "Test-Pilot" Project uitgekomen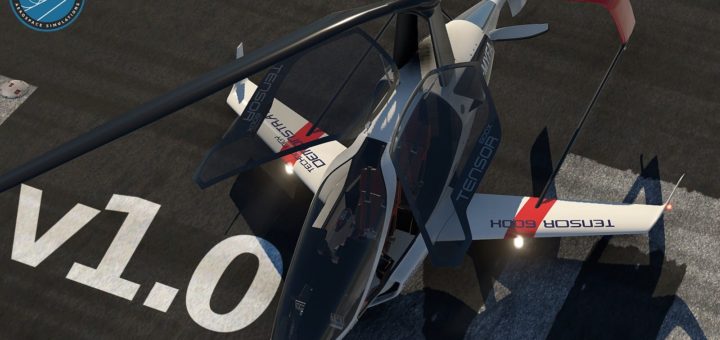 Een wel heel bijzonder kistje hebben ze nu uitgebracht voor X-Plane V11+. We hebben het over VSKYLABS hun FA Tensor 600X die onder hun "Test-Pilot" Project valt.
Dit soort kistjes laten maar weer eens zien hoe goed X-Plane v11+ is als het gaat om eigenschappen te voorspellen van een nog in ontwikkeling zijnde "real life" toestel. Het meest bekendste voorbeeld is wel de Beta eVTOL waarbij de ontwikkelaar/fabrikant intensief samenwerkt met X-Plane ontwikelaar Austin Meyer. Veel gebruik werd er gemaakt van X-Plane 11.41+ om o.a. het vlieggedrag te voorspellen. Inmiddels is het toestel zelfs gebouwd en heeft al verschillende testvluchten gemaakt. Terug naar de addon van dit artikel, hieronder vind je alle info over deze nieuwe FA Tensor 600X van VSKYLABS incl de link om haar te kopen.
The Tensor 600X is a concept, test aircraft by Fraundorfer Aeronautics, in development in hopes of the type becoming future of mobility for the human race. On the manufacturer's website, the suggested uses of the type range from aerial surveillance to commercial passenger or cargo transport. Although the airframe is not available for purchase, it has completed its maiden flight and the company is actively developing it.
Full feature list:
VSKYLABS 'Test-Pilot' Project of a real world prototype
Advanced, robust Autogyro simulation in X-Plane
Highly defined flight model of the FA Tensor 600X Autogyro – tested by professional Autogyro pilots
Built around the powerful, native X-Plane 11 'Experimental Flight Model' environment
Fully functional VR (Virtual Reality) compatibility
3D Pilot and passenger visualization for increased VR immersion
Built-in LR G1000 avionics
Multi-Layer FMOD sound pack
STMA Autoupdater included
Easy-to-use paint-kit included
The project is under constant development.
Highly responsive VSKYLABS support forums
The VSKLABS FA Tensor 600X "Test-Pilot" Project is available to purchase for $25.00 USD at the X-Plane.org store now.