BAe 146 PROFESSIONAL voor P3D v4.5 & V5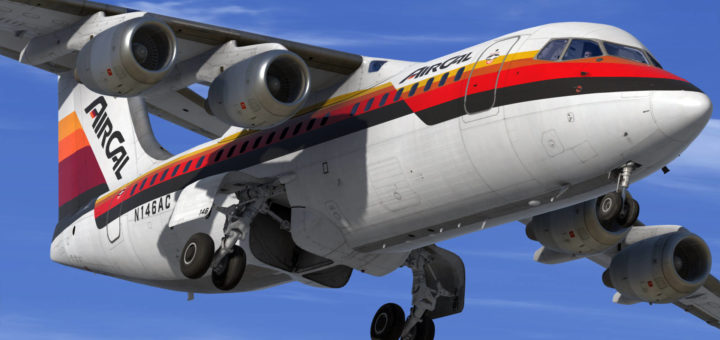 Justflight heeft de BAe 146 voor Prepar3D v4 en 5 uitgebracht. In een persbericht laten ze weten dat er ook een versie voor MSS2020 en X-Plane aan zit te komen. Lees hieronder het persbericht met daarin ook alle details van deze release.
ALL NEW 146 PROFESSIONAL FOR P3D v4.5 & V5 NOW ON SALE!
This 'Whisper Jet' collection comes in 30 liveries and includes eight stunningly detailed variants with their own unique flight dynamics, custom effects, immersive dynamic lighting, accurate animations and PBR materials. The Captain's and First Officer's cockpit positions are modelled with hundreds of functional switches, knobs and controls.
Complex custom-coded systems include hydraulic, electrical, fuel and pressurisation and the cockpit features a functional Thrust Management System (TMS) and comprehensive navigation equipment which includes an FMC.  The package comes with a mammoth 200 plus page manual along with tutorial to offer help.
Key Features:
•             Stunning 4096 exterior and interior PBR textures throughout
•             Passenger and cargo variants included – eight models and over 30 liveries!
•             Over 450 custom 3D sounds recorded from the real aircraft
•             New dynamic lighting system for P3D v5 from in-house team
•             Comprehensive manual and tutorial
•             Realistic and accurate flight dynamics
Prices:  £59.99 / €74.95 / $84.99
See the product page on the Just Flight website for a comprehensive set of screenshots, some videos and full full details of all the aircraft systems and features!
Product page: https://www.justflight.com/product/146-professional-p3d