Freeware: FSXWX Weather Engine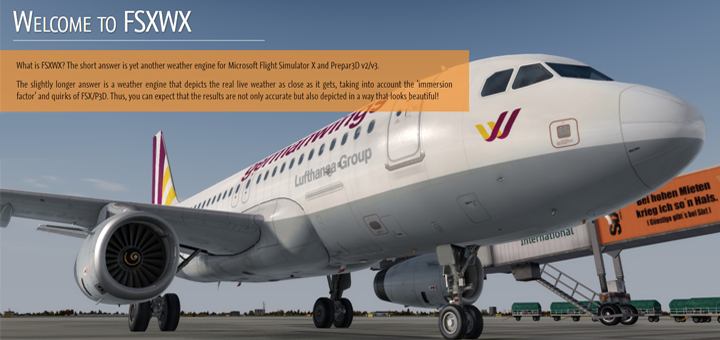 Dankzij een tip van een bezoeker kwamen we op de website van FSXWX terecht. Een gratis Weather Engine voor FSX en Prepar3D! Daar waar de meeste van ons gebruik zullen maken van Active Sky of soortgelijke programma's is dit toch wel een heel interessant en gratis alternatief. Zeker voor mensen die bij voorkeur niet al te veel geld in addons willen steken. Het aantal features dat meegeleverd wordt is indrukwekkend:
FREE of charge
Realistic weather depiction based on METAR reports and GFS data (GRIB format)
Custom weather grid with more than 65.000 stations
Worldwide coverage including oceans and unpopulated areas
Unique direct wind control with realtime updates on the go
Natural fluctuation of wind speed and direction
Realistic local weather, including 'educated guess' for CAVOK/NSC/NCD conditions
Entire raw data is three-dimensionally interpolated to eliminate harsh transitions
Worldwide true winds aloft and temperatures
Historic weather for the last 365 days archived and selectable
Sophisticated injection to minimize disturbances within FSX/P3D due to simconnect
Cloud depiction enhancements for a better visualization in FSX/P3D, including overcast conditions
Realistic visibility on surface and aloft including foggy conditions
Carefully implemented turbulences and wind gusts to harmonize with complex addon aircrafts
Depiction of vivid weather to make flying in FSX/P3D more immersive than ever
Easy-to-use and lightweight client interface
Bezoek voor meer informatie de website van FSXWX via deze link.