FS2Crew "Pushback Express" voor MSFS, FSX en P3D uitgekomen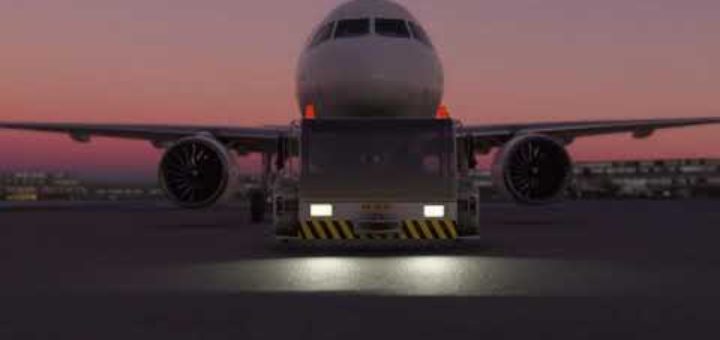 Realistische push-backs maken dat een sim weer een stuk dichterbij de realiteit komt. Dat zullen ze bij ontwikkelaar FS2Crew ook gedacht hebben want ze komen nu met 'Pushback Express" voor MSFS, FSX en P3D. Dat is mooi meegenomen aangezien je het programma maar 1 keer hoeft te kopen en voor verschillende sims kan gebruiken. Netjes hoor! Hier te koop voor 24.95 Euro. Ben je al in het bezit van een andere FS2Crew add-on (Maakt niet uit welke), dan gaat er nog eens 5 Euro van af. Gebruik hiervoor de code: PUSH2020.
Have you ever used a FS2Crew program before?  Get 5 Euros off!  Use coupon code:   PUSH2020
Meet the first -and last- Pushback System you'll ever need for the new Microsoft Flight Simulator!
Simple and elegant with no need for complex manuals, Pushback Express meets all your pushback requirements – present and future!
From a wide choice of international voice sets to the ability to self-drive the tug so you can perform a custom route, Pushback Express does it all your simulator choice:  Microsoft Flight Simulator (2020), Prepar 3D or FSX.
So say good-bye to the clunky default pushback system in Flight Simulator and say hello to a new level of realism!
Say hello to Pushback Express!
SIMULATORS SUPPORTED:
Microsoft Fight Simulator (2020)
Prepar3D (V1 to V5)
FSX (Boxed or Steam)
MAIN FEATURES:
Three pushback modes:  RUDDER CONTROL, WINDOW BUTTONS and DISTANCE.
Option to steer the tug manually (essentially, create your own custom route).
Works with any type of aircraft (Airline to GA).
Ability to "Push and Pull" the aircraft to the desired spot.  
Towing (requires users to steer the tug).
Pre-flight events with automatic jetway/door control.
Works at all airports.
International voice sets.
Built in tool-tips makes learning the software super easy.
And more!
MODELS:
Version 1.0 uses the stock pushback tug.  As Asobo develops the SDKs, we will incorporate our own vehicle and human models as soon as it is technically possible.  We expect it will take Asobo another full year before the SDKs are ready for custom models.
INTERNATIONAL VOICE SETS FOR GROUND CREW & PILOT VOICES:
American
British
Australian
German
French
Spanish
Asian
More will be added!
Note:  German, French and Spanish voices feature two options: 
Option 1. Native language support (example: German spoken in German, French spoken in French and Spanish spoken in Spanish)
Option 2. English but with local accents.