PRACHTIG!…………………..Overhaul voor X-Plane v12, en wat voor eentje!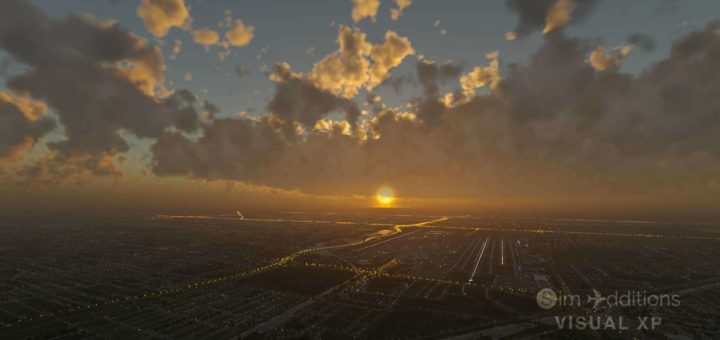 Voor X-Plane v12 heeft ontwikkelaar simadditions geheel als een verrassing voor velen hun VisualXP uitgebracht.Deze pakketten geven de wereld van X-Plane v12 een prachtige nieuwe look. We zeggen niet voor niets "pakketten" aangezien deze add-on in drie versies verkrijgbaar is met elk hun eigen prijs van laag naar hoog (Hieronder alle info en een prachtige video), WAT EEN VERSCHIL ZEG!  Matthias hoopt een review copy te krijgen, indien oke zal hij deze hier plaatsen.
BASIC (9.99 USD)
PREMIUM (17,98 USD)
ULTIMATE (25,97 USD)
VisualXP
VisualXP will enhance your X-Plane Atmosphere, Clouds, Water, and Scenery(Lights and Shadow) visually.
VisualXP has its own live weather resource, you don't need any extra plugins, with this plugin you can search weather for three airports as we call them Departure, Arrival, and Alternative Airport, also you can check the weather briefings for the current position of the aircraft.
VisualXP has its own User Interface, this interface will show you the Live weather information, the search results, and the current weather briefings for the Aircraft position.
The interface has multiple tabs. These tabs have named Atmosphere, Clouds, Water, Scenery, and Weather. Each Tab has its functions, buttons, and sliders, With these Buttons, and Sliders, you can control VisualXP easily.
The Atmosphere feature will enhance the Sun lighting, Ambient lighting, Scattering color temperature, Sky colors, Fog density, Aerosol, Visibility range, Horizon scattering, and Zenith scattering.
All of these will be controlled automatically using Real calculations to make the sky looks more normal and realistic, Also we've added sliders for these functions, With these sliders, you can control the strength and the performance of these function as you prefer.
In the Clouds tab, we have functions and sliders which control the cloud formations, clouds visibility range, clouds brightness, clouds density, thickness, cloudiness, and clouds details, all of these will work together to give better clouds forms.
In the Water tab, there are functions to control the water wave foams, sun gloss, water wave strength, and scaling. there are sliders to control these functions as well.
In the Scenery Tab, we have Lights functions, simulating real-life fog at night where there are multiple lights that illuminate the fog. We also can Enable one of the great features of X-Plane "the Fog Spotlights" which add realistic spotlights for all objects in X-Plane. we can control the light spots' strength on the ground as well, we have sliders to control the size and the strength of the lights as well as spots lights.
In the Weather Tab, we have three tabs inside, Live Weather, Weather Search, and Weather Briefings. in the Live Weather Tab you can enable VisualXP Live Weather Engine or disable it in case you want to use your own source, our live weather takes it data from NOAA contumely based on the aircraft location, it download required data for that location without the need to download the full report of METAR. you can also control the weather refresh time rate in case you are setting up your aircraft for departure which takes some time and needs the weather to be updated, but while you are in the sky the weather will be updated automatically depending on your location,  and every weather updates you will get all needed information on the User Interface.
in the Weather Search Tab, you can get weather reports for three airports and you will get all the needed information on the User Interface, while in the weather Briefing Tab, you will have all weather information including clouds altitudes pressure, and all aloft for winds directions, winds speed, temperature, dewpoint, winds share, and turbulence, also the status of the water waves.
VisualXP Interface has three User Presets to be used to save the settings separately.
VisualXP Interface has multiple interface colors and you can choose the color you prefer for your interface.
You can restart and turn off VisualXP from within the plugin without the need to reload all plugins or plugin Admin.
VisualXP Licence key
Once you bought VisualXP you will get your license Key, with this key you can activate the plugin directly, To keep your VisualXP unlocked please never share the key with anyone.
You can use this key on multiple devices but one device at a time will be worked and the other will be locked temporarily till the next use. in case you need to run VisualXP on multiple devices we suggest you buy a copy for each device.
VisualXP Variations
We have Three Variation of VisualXP, which we called them "Plugin Levels" these plugins level are "Ultimate, Premium, and Basic".
The Ultimate version will include all features of VisualXP, while the other levels have some limitations which are explained as follow:
The Premium level has the mentioned features except for the "Scenery" Tab (Lights functions and sliders) and the "Weather Briefing" tab which is included in the Weather Master Tab.
The Basic level will have an Atmosphere, and Clouds Only.
We have these three variations to give the user the ability to choose the one that fits he/her needs.