Released: FSDreamTeam GSX Pro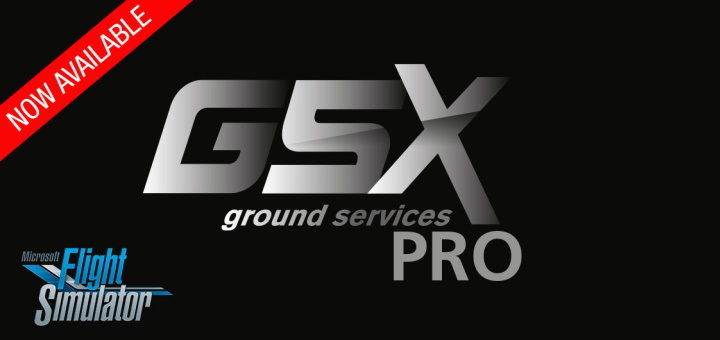 FSDreamTeam heeft, na lang wachten, dan eindelijk GSX Pro uitgebracht voor Microsoft Flight Simulator. Voor de meeste simmers onder ons behoeft GSX geen verder introductie. Het product bevat de volgende features:
Pushback
GSX adds a new kind of highly realistic Pushback service, supporting vehicles with a Towbar, with fully animated crew and a bypass pin simulation. The Pushback works automatically, reading the airport files to place your plane exactly on the line, requiring only to choose an initial Left/Right direction. Full customization with Pushback pre-planning it's also possible, using the QuickEdit feature, which will automatically save the procedure for future use.
---
Animated Passengers
Take your graphic realism to the next level, with GSX exclusive Animated Passengers. Regardless if the parking has a Jetway, or will use a Bus, GSX will display Passengers, Crew and Pilots Boarding and Deboarding the airplane. It's even possible to customize any airport to create custom walking paths, for those gate that won't need a Bus, with optional visible Barriers (Stanchions), available in different styles. Passengers all have individual walking motions, with randomized gestures and variation, for a more natural look. SimBrief integration will set the number of passengers automatically according to your last Dispatch.
---
Refueling
Refueling is completely changed with GSX, with support for Underground fuel supply, using a Fuel Hydrant vehicle, with a custom animated Crew, and a working Fuel Counter to refuel progressively, complete with realtime Fuel Price indication. With SimBrief integration, the GSX Fuel service can use the exact Fuel quantity in your dispatched Flight Plan.
---
Deicing
A new service, exclusive to GSX, to call for Deicing vehicles during Departure if Icing conditions are detected, featuring the new improved MSFS Visual Effect system to show different spraying liquids with different colors according to Fluid Type and Concentration. Deicing In and Out points can be customized for each airplane.
---
Follow-Me cars
Can't find your way to your gate or a runway ? GSX can help you with a FollowMe Car, which you can call to guide you either to the destination parking, or to reach the assigned runway during Departure.
---
Baggage Loading
Baggage Loading and Unloading with GSX has never been so realistic. Animated characters, made with custom Motion Capture session will pickup bags using an highly detailed vehicle with an animated Conveyor Belt, using several models of animated Baggage Carts. Compared to the default system, GSX can support two Baggage Loaders operating simultaneously.
---
Cargo Loading
GSX supports dedicated Loaders for ULD Containers and Pallets. A large variety of different ULD containers and standard Pallets is available, and it changes according to the airplane type. Cargo Loaders can support up to Two Lower Cargo doors, and a Main Cargo door as well, all operating simultaneously.
---
Catering
GSX Improves the default Catering service, by offering a larger variety of vehicles, with more types appropriate to the region and aicraft type, allowing for a wider range of airplanes to be serviced. A large and ever expanding selection (more than 75 in the first release) of real world operators are included, which are chosen automatically depending on the airport. Catering vehicles comes with animated Crew and custom sounds. Compared to the default system, GSX can support two Catering trucks operating simultaneously.
---
Global Jetways Replacement
GSX comes with hundreds (more than 300) different Jetway logos for many airports around the world, each one available in multiple models (Metal, Metal Corrugated, Glass) which are selected automatically by airport and region, all available at the same time, because we supply the program with more than 900 individual sceneries to replace Jetways worldwide. The GSX Configuration Panel can be used to exclude specific airports from Jetway replacement.
---
Global Ground Vehicles Replacement
GSX comes with an always expanding library (more than 230 at this time) of different Ground Handling custom liveries for many airports around the world, selected automatically depending on the airport. These vehicles will also automatically populate the airport as "Living World", wandering around automatically, or servicing AI airplanes. It's even possible to use these vehicles as standard Ground Vehicles replacements, without starting GSX, so they will work as default services, with better graphic and model variations.
---
Multiple voices, with regional Accents
Service vehicles with voices, like Pushback or Deicing feature different regional accents variations and, new to this version, with Female voice variations, since many characters have been expanded to include a selection of both Men and Women. The voice accent is automatically selected based on ICAO country codes. The voice library is always growing and, at this time, we have regional accents for: British, American, Australian, German, French, Greek, Nigerian, Indian, Italian, Japanese, Dutch, New Zealander, Portuguese, Russian, Swedish, Spanish, Turkish and South African.
---
Works with any aircraft
Although GSX already comes with an airplane database including many default and popular 3rd party airplanes such as Fenix, PMDG, Leonardo, Aerosoft, users can create their own custom aircraft profile, to adapt GSX to any airplane that will eventaully be available in the future. Aircraft profiles are very small text files which can be shared by users or supplied by the airplane developers directly. There's a published API airplane or utility developers can use, to add specific GSX integration in their products.
---
Extensive Airport customization
While GSX already works automatically on any airports, default or 3rd party, users can customize every parking with specific options like the vehicles starting position, the ground/catering operators, setting multiple pre-planned custom routes for Pushback, and Passenger waypoints, outside or inside terminals. GSX airport profiles are just .INI text files which can be easily shared by users, or supplied directly by airport scenery developers.
Je kunt GSX Pro aanschaffen voor ca. €38 via de web site van FSDreamTeam.